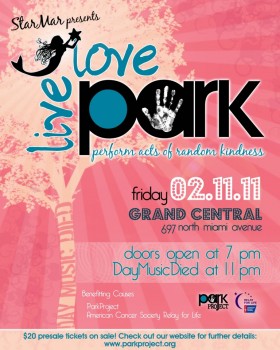 Live.Love.PARK!
2.11.11
Doors Open at 7:00pm
Official Welcome is at 9 p.m.
Live Concert is at 11 p.m.
Grand Central
697 North Miami Avenue
Miami FL 33136.
open to the public
Live. Love. PARK! is the foundation's second event. On Friday, February 11th, 2011 Grand Central, 697 N Miami Ave Miami FL 33136, will open its doors to support PARK Project once again! As a VIP (Very Important PARKner) the red carpet is rolled out for YOU! Enjoy an event that celebrates LIFE. LOVE and those who PARK for a world with more birthdays! Doors open at 7pm for souvenir pictures, casual social networking, delectable hors d'oeuvres and sweet treats! You'll want to PARK early to meet & greet all Community PARKners, participate in an important survey and to be a part of the raffles and give-a-ways before the Official Welcome at 9pm. With two full cash bars, professional stage, sound, lighting, video production, interactive touch screens, special dance performances and an unforgettable concert finale … this is one birthday party you don't want to miss!
There are incentives to PARK before the event! Purchase a Pre-Sale Wristband for $20, and bring a PARKner…for FREE! Event day sales will be available, $20 per person, cash only. A portion of the proceeds will benefit the American Cancer Society as the "Official Sponsor of Birthdays" and in celebration of all Relay For Life volunteers that LIVE THE CAUSE and PARK for a world with more birthday parties! For more information and/or to purchase your event ticket(s) visit www.parkproject.org.
PARK Project's mission is to Perform Acts of Random Kindness and LIVE THE CAUSE in hopes of creating a powerful ripple effect of LOVE found in the genuine SERVICE of others. This short and humble message aims to inspire and empower by unlocking the potential of people of all ages, capabilities and resources to BE THE CHANGE we all wish to see in the world. This grassroots effort began with one PARK Project; a birthday party, 9/10/10, that united over 200 people and raised $1,500 to benefit the Miami VA Fisher House and the American Cancer Society. This one act of random kindness resulted in a powerful ripple effect that has united thousands of people and dozens of Community PARKners in just a few months!
StarMar Events, a comprehensive consulting, production and management firm, is the fuel behind this effort along with a COMMUNITY of people who decided to become PARKners to move this mission forward. They are committed to producing events that celebrate the collective efforts of people, non-profit organizations and companies that unite to PARK and LIVE THE CAUSE; PARK or their own! It is through a personal commitment to PARK for a cause that moves YOU, that PARK Project will be established as a non-profit organization whose mission facilitates service, leadership development and civic engagement that strengthens, expands and/or creates more service projects.
Park Project's vision is, "To live in a world where people actively respond to their innate desire to serve one another." You can own the mission, Live the cause, PARK!, on facebook/theparkproject and twitter/wepark. For more information on all of the Community PARKners offering in-KIND support of this effort, visit http://www.parkproject.org/showcase.php.