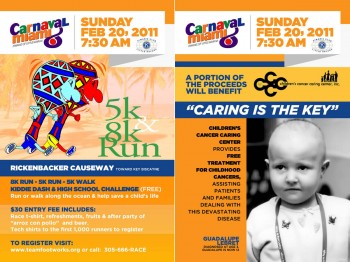 As friends of Kiwanis of Little Havana, we invite you to participate at the Carnaval Miami 5K & 8K Run and contribute to help save a child's life. Please pass this to friends and colleagues and get a group together to participate with you.
The Carnaval Miami Run, formerly held at Calle Ocho for 25 years, moved its venue and is now an ocean view race. It starts at Historic Virginia Key Beach Park to the Rickenbacker Causeway on a loop back to the park. Entry fee is $25 for 5K Run/Walk and $30 for the 8K Run. Children & high school students race FREE.
The Carnaval Miami Run is a new race with new course & distance on a new date & time in a new place. It's a family event for a worthy cause.
Your participation will contribute to fundraise for the Children's Cancer Caring Center, please Forward This Message.
Thank you for using Soul Of Miami!