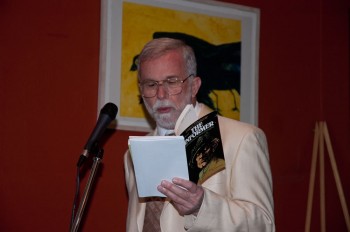 The St. Patrick's Day Committee's Celtic Cultural Series presents a viewing of The Informer, John Ford's motion picture.
Sunday afternoon, February 13, 4 pm.
Upstairs Room of John Martin's Restaurant
253 Miracle Mile
Coral Gables.
The motion picture will be shown in its entirety with comments by Pat McCarthy at 4 pm. Sunday afternoon, February 13 in the Upstairs Room of John Martin's Restaurant, 253 Miracle Mile, Coral Gables.
John Ford based his 1935 film The Informer, starring Victor McLaglen, on Liam O'Flaherty's 1925 novel of the same title. The film won four Academy Awards, including Best Director (Ford) and Best Actor (McLaglen), and has long been considered a classic motion picture.
Pat McCarthy, Chair of the English department at the University of Miami and Editor of the James Joyce Literary Supplement, will discuss the transformation of Flaherty's novel into Ford's movie, and thei portrayals of Irish political conflict in the 1920s.
All Celtic Cultural Series events are free and open to all. Ample parking is available on Miracle Mile and in the City Parking Garage behind John Martin's, accessible from Aragon Avenue.
The Celtic Cultural Series is produced by the St. Patrick's Day Committee, Inc. with the support of the City of Coral Gables, the Miami-Dade County Department of Cultural Affairs, the Cultural Affairs Council, and the Mayor and Board of County Commissioners of Miami-Dade County
Pat McCarthy reading Liam O'Flaherty's novel The Informer