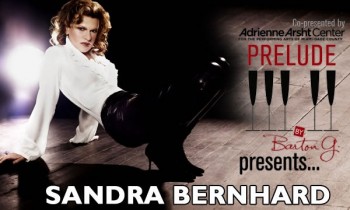 January 28 & 29 @ 8:30 p.m.
Prelude By Barton G.
Sandford and Dolores Ziff Ballet Opera House (2nd floor)
Sandra Bernhard, comedienne, actress, author and singer, has produced numerous one-woman shows over the years, among them: Without You I'm Nothing—which was released as a feature film—Excuses for Bad Behavior, Giving 'Til It Hurts, Hero Worship, the Love Machine, and Everything Bad and Beautiful.
Bernhard first earned film accolades in 1983 when she appeared in Martin Scorsese's The King of Comedy. Other film work includes Inside Monkey Zetterland, Track 29, Hudson Hawk, Dinner Rush, and Dare. And she is about to begin filming on two new projects.
In addition to her original songs, Bernhard performs covers from Led Zeppelin to Laura Nyro; Burt Bachrach to Britney Spears. Bernhard also has written three books: Confessions of a Pretty Lady, Love, Love and Love, and May I Kiss You on the Lips, Miss Sandra?
$45 for show only (plus two drink minimum, seating is as available first come first serve) or $110 (dinner, show with preferred seating).
For more information or to purchase tickets, visit: www.preludebybartong.com or call 305-357-7900.