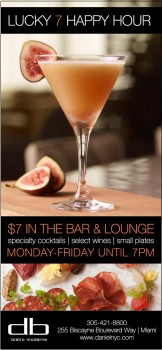 Happy Hour Lucky 7 at db Bistro Moderne at db Bistro Moderne
Downtown Miami
Mon – Fri, 5pm – 7pm
$7 select appetizers & $7 specialty cocktails and select wines
255 Biscayne Blvd Way
-Located in the lobby of the JW Marriott Marquis-
Miami, FL 33131
www.danielnyc.com/dbbistroMiami.html
Enjoy $7 Specialty Cocktails and select wines by the glass.
Also, choose from several delectable small plate appetizers for only $7.
db Bistro Moderne Lounge from 5pm to 7pm Monday – Friday.