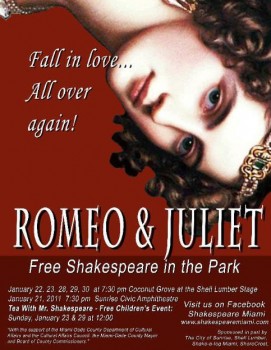 Romeo and Juliet by William Shakespeare
Jan. 28,29,30, 8 p.m. (two shows Sunday 2 p.m. and 8 p.m.)
Shell Lumber Yard
2733 SW 27 Avenue off of US-1 on 27th Ave.
www.shakespearemiami.com
The Miami Shakespeare Company takes Shakespeare's Romeo and Juliet and brings it to the open air of Shell Lumber Yard. Nick LaMedica stars as Romeo and Bree-Anna Obst as Juliet. Come have a picnic and watch a much-loved Shakespearean classic! Bring food, wine, chairs or blankets for a wonderful time!