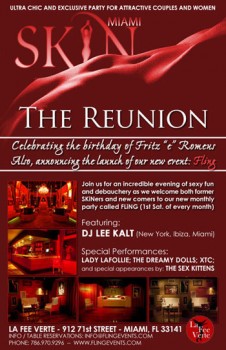 Saturday February 5, 10pm – 4am
La Fee Verte
912 71st Street
North Miami Beach, FL 33141
Click here to apply for membership.
Have You Heard?
SKiN is having a reunion party on Saturday Feb. 5th, at a plush venue in North Miami Beach…
Also, celebrating the birthday of your gracious host: Fritz "E" Romeus
Join us for an incredible evening of sexy fun, dancing, and debauchery as we welcome both former SKiNers and new comers to our new monthly party called FLiNG… For a sneak preview, please visit our new event website at: www.flingevents.com (First Saturday of every month)
This Event is strictly for Attractive, Adventurous, and Exceptional Couples and Women Only… Unescorted Men will not be admitted!
Dresscode:
Women: Get creative and show lotsa SKiN (you know! like that see-thru dress that's been screaming for Free_Dom, or that dress with the slits reaching high for the stars)
Men: No t-shirts, athletic shoes, or anything khaki; If you decide to wear your designer Jeans, please make sure to wear a sleeved shirt and shoes (no trainers please!).
Parking:
There are plenty of street parking which will be free in the evening hours. However, we will have No Valet Service that night. We are expecting a packed house as the requests for this party have been coming to us in large number. Please plan to be there early to get the best parking spots that are available closer to the venue.
Don't Miss It!