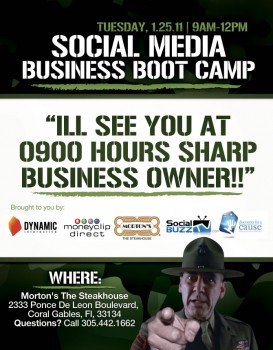 SocialBuzzTV Social Media Boot Camp
Tuesday January 25, 2011 from 9:00 AM to 12:00 PM
Morton's The Steakhouse
2333 Ponce De Leon Boulevard
Coral Gables, FL 33134
– $47 in advance.
– $60 at the door
REGISTER ASAP! LIMITED SPACE IS AVAILABLE. This event will sell out!
Does Your Business Need Some SOCIAL MEDIA Conditioning?
If you said YES just now, then mark Your Calendars for Tuesday morning 01/25/2010 in the Gables at Morton's The Steakhouse
SPREAD THE WORD! Everyone Needs Social Media, EVERYONE!
You'll learn about…
*What is Social Media?
*Why Do I Need it in my Business?
*What are the most effective Social Media mediums?
*Case studies and successful campaigns
*Why is VIDEO important?
*Where should I post my VIDEO?
*Why You Need Video in your life
*Tips, Tricks and Tools
*Leaving Boot Camp with a GAME PLAN for Social Media
Group Discounts are available for groups of 10 or more.
Be sure to bring plenty of business cards before and after Boot Camp are great opportunites to network with other likeminded business owners.
We look forward to seeing you there! If you have any questions in the mean time, just feel free to shoot us an email at info@SocialBuzzTV.com
We're here to help!
See You Soon!