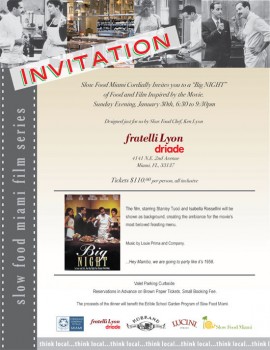 Slow Food Miami 'Big Night' Dinner
January 30, 2011, 6:30 p.m.
Fratelli Lyon
4141 NE 2nd Avenue
Miami, FL 33137
Slow Food Miami will host a "Big Night" dinner for 85 patrons on January 30th at Fratelli Lyon in Miami's Design District. The theme is inspired by the 1996 film Big Night, a cult favorite among Italian food lovers that stars Stanley Tucci and Isabella Rossellini. It will be presented with subtitles as a backdrop to the festive, six-course dinner designed by Chef Ken Lyon, who closely interpreted the feast so famously served in Big Night to create Tuscan Renaissance dishes that will include Zuppa "La Ferdinanda," Timballo di Mezzelune and roasted Farone con Uva.
Proceeds from the "Big Night" dinner will benefit Slow Food Miami's Edible School Garden program, a nationally recognized three-year project designed, installed and stewarded by Slow Food board members.
Thank you for using Soul Of Miami!