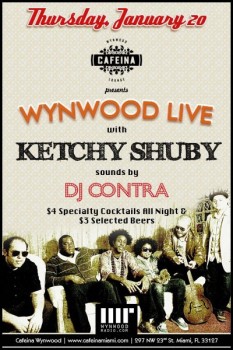 Cafeina presents "Wynwood Live" with soulful performance by Ketchy Shuby
Thurs., Jan. 20 at 8 PM
Drop by Cafeina on Thursday, January 20 for another rendition of its weekly musical performance series Wynwood Live, featuring the soulful beats of Miami-based band Ketchy Shuby. DJ Contra will keep the party going into the early hours as guests at the Wynwood boite enjoy $3 Blue Moon specials and $4 specialty cocktails all night. Contact 305.438.0792 or info@cafeinamiami.com for table reservations. Cafeina is located at 297 NW 23rd St. in Miami. For more information visit www.cafeinamiami.com.