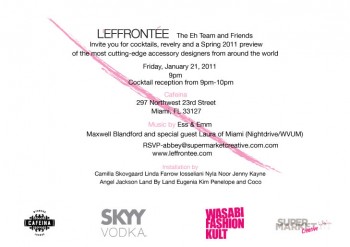 Cafeina Hosts Monthly Party "The Eh Team" With Fashion Showcase By NYC Retailer L'effrontée
Friday, January 21, 2010
9:00 p.m. to 3:00 a.m.
Cafeina
297 Northwest 23rd Street
Miami, FL 33137
For reservations: 305.438.0792
RSVP is recommended to abbey@supermarketcreative.com.
Cafeina will kick-off the New Year with a stylish edition of its Canadian-inspired party series "The Eh Team" on Friday, January 21, 2011, along with media partner Wasabi Fashion Kult, and guest hosts and co-founders of the L'Effrontée online fashion boutique Beatriz Martinez and Cristina Salazar. Canadian-Miamian DJs Ess & Emm (Sasha Lauzon and Michelle Leshem) will dictate the musical score for the evening, in addition to party series-staple Maxwell Blandford and "The Eh Team" newcomer Laura of Miami (Nightdrive/WVUM). Guests will enjoy complimentary Canadian-themed libations by Skyy Vodka from 9 PM to 10 PM, along with a Spring 2011 preview of eight cutting-edge accessory designers presented by L'Effrontée.
L'Effrontée, a French term for a girl who is cheeky and rebellious, was launched by New York-based Salazar in late 2010. The burgeoning online retailer aims to provide customers all of their statement-making accessories in one place, with carefully edited selections from handbags and shoes to scarves, jewelry and sunglasses. The installation at Cafeina's "The Eh Team" will include designers: Camilla Skovgaard shoes, sunglasses by Linda Farrow Iosseliani, Nyla Noor jewelry, Jenny Kayne shoes, handbags by Angel Jackson, Land by Land hair accessories, hat designer Eugenia Kim, and Penelope and Coco shoes. For more information on L'Effrontée please visit www.leffrontee.com.
Cafeina is a multi-room lounge and art gallery with a lush outdoor garden. It is located at 297 Northwest 23rd Street in the Miami Wynwood Art District. The kitchen offers light bites and is open Wednesday through Saturday 6:00 p.m. to midnight; the bar is open until 3:00 a.m. Valet parking is available. For more information, please call 305.438.0792 or visit www.cafeinamiami.com.