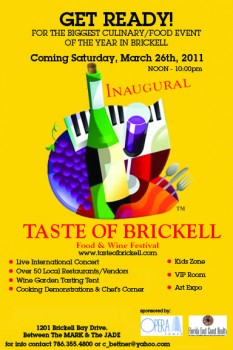 Taste of Brickell Food & Wine Festival
March 26, 2011, Noon-10pm
1201 Brickell Bay Dr.
Miami, FL 33131
www.tasteofbrickell.com
Taste of Brickell Food and Wine Festival is a significant annual community outreach event, with the goal of providing a fun-filled day of music, outstanding food, and fun for the community of Miami and South Florida.
With the support of restaurants and sponsors of the Brickell area we are able produce this exciting culinary-food event in Brickell on the Bay!
More Than Fifty Restaurants, Sponsors, and non-profit organizations help bring thousands of people together to experience a diverse exchange of food and music in the heart of Brickell Miami.