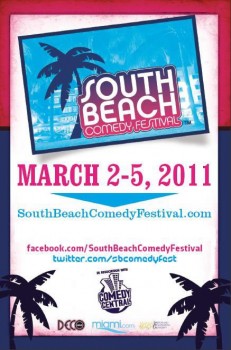 2011 South Beach Comedy Festival
Wednesday, March 2nd Thru Saturday, March 5th
Tickets and More Info.
Facebook.
Flickr.
Twitter.
The Fillmore Miami Beach
1700 Washington Avenue
Miami Beach, FL 33139
Cameo Theatre
1445 Washington Avenue
Miami Beach, FL 33139
Colony Theater
1040 Lincoln Road
Miami Beach, FL 33139
New World Symphony
500 17th Street
Miami Beach, FL 33139
Lincoln Road Free Stage
Euclid Ave & Lincoln Ln S
Miami Beach, Florida 33139
Backstage at The Fillmore
1700 Washington Avenue
Miami Beach, FL 33139
The Sixth Annual South Beach Comedy Festival has just announced its dates for 2011. Looking to an even bigger and better year, the event will run from Wednesday, March 2nd to Saturday, March 5th . Comedy Central returns as the national media partner and Live Nation as the sole producers of the Festival handling all marketing, PR, talent booking and production.
Now in its sixth year, the South Beach Comedy Festival continues to grow and remains the premiere comedy festival for top comedic talent and fans across the country. To accommodate the burgeoning audience, Live Nation and Comedy Central have added more featured performances in South Beach.
The Free Live Comedy Stage on Lincoln Road will once again offer up outrageous laughs nightly to any and all attendees. The full Festival roster will be announced in the next few weeks. Tickets for Doug Benson, Adam Carolla, Kevin Hart, Gabriel Iglesias and Wanda Sykes will go on sale on January 15.
"The South Beach Comedy Festival has emerged as one of this country's premier comedy events, bringing with it all the benefits of tourism, business and great entertainment to Miami Beach and our whole South Florida community," stated Neil Jacobsen, President of Live Nation Florida, producers of the Festival. "This year promises to be even bigger and better than before and we are privileged to again be partnering with Comedy Central to make it all happen."
Kia, Taco Bell and Schick are the national sponsors for the sixth annual South Beach Comedy Festival as well as local sponsors the Miami Beach Visitor and Convention Authority, Miami Herald, the Improv and Deco Drive.