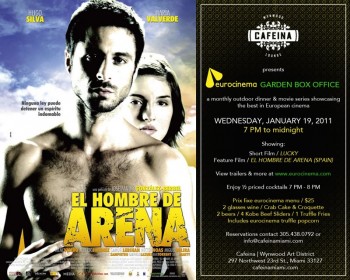 Wynwood lounge brings foreign films to Miami with outdoor dinner & movie series
Wednesday, January 19, 2011
7:00 PM to midnight
Cafeina
297 Northwest 23rd Street
Miami, FL 33127
Advance table reservations are available by contacting 305.438.0792 or info@cafeinamiami.com.
On Wednesday, January 19, 2011, Cafeina will launch its "eurocinema Garden Box Office" dinner and movie series with viewing of El Hombre de Arena, the Spanish drama starring Hugo Silva and Goya Award-winning actress Maria Valverde. Set during a Spanish dictatorship, Mateo (Silva) is imprisoned in a psychiatric institution that is more of a prison than a hospital. A love develops between Mateo and another inmate Lola (Valverde), who has been institutionalized after years of sexual abuse and together they push the boundaries of the institution that houses them. The screening will also showcase the short film Lucky starring stunt man Nash Edgerton. Movie trailers, director commentary and more special features available at www.eurocinema.com.
Watch a trailer for the movie here.
The monthly outdoor viewing series is a partnership between the Wynwood hotspot and eurocinema, Miami's first and only foreign film channel available on-demand. Cafeina's Executive Chef Leo Gutierrez has designed a special $25 eurocinema prix fixe menu, which includes eurocinema truffle popcorn and a choice of two glasses of Spanish wine, Crab Cakes and Mushroom & Goat Cheese Croquettes, or two beers, four Kobe Beef Sliders and one order of Truffle Fries. Guests at the showing will also enjoy half-priced cocktails from 7 PM to 8 PM.
Cafeina is a multi-room lounge and art gallery with a lush outdoor garden. It is located at 297 Northwest 23rd Street in the Miami Wynwood Art District. The kitchen offers light bites and is open Wednesday through Saturday 6:00 p.m. to midnight; the bar is open until 3:00 a.m. Valet parking is available. For more information, please call 305.438.0792 or visit www.cafeinamiami.com.
eurocinema is the leading provider of European films, available on-demand. eurocinema offers viewers access to a unique selection of award-winning box office films with a few clicks of a remote, 24/7. Available in over 31 million U.S. and Canadian homes; eurocinema can be found under the Indies/Foreign/International Film category of cable or satellite provider's On-Demand menu. For more information visit www.eurocinema.com.