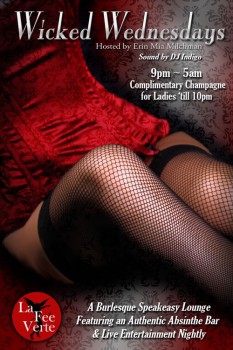 Please join me at Club La Fee Verte for The Official kickoff party for Art Deco Weekend on Wednesday, January 12th at 9pm.
Club La Fee Verte
912 71st St.
Miami Beach
( Normandy Isle area )
RSVP~ Erin Mia 954.232.0772
erinmiamilchman@gmail.com
Official Art Deco Weekend Kick Off Party
Complimentary Champagne for the ladies until 10pm
Club La Fee Verte
A Burlesque Speakeasy Lounge in the heart of Normandy Isle, Miami Beach
Art Deco Weekend kicks off with the Unveiling of the Official Poster at
The Welcome Center on 10th and Ocean Drive in Miami Beach hosted by Heather Davis from 7~9pm.
Please join Heather & Erin Mia for The Official After Party at Club La Fee Verte at 9pm.
No Cover For This Special Event
Complimentary Champagne for the ladies until 10pm.
Live Burlesque Show & Authentic Absinthe Lounge