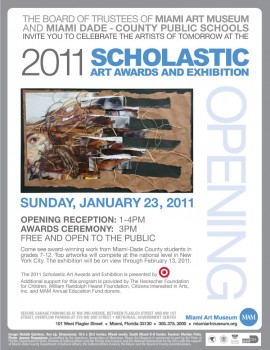 Miami Art Museum and Miami-Dade County Public Schools Present 2011 Scholastic Art Awards and Exhibition
Awards Ceremony
Sunday, January 23, 1 p.m. to 4 p.m
Miami Art Museum
101 West Flagler Street
Miami, FL 33130
miamiartmuseum.org
The opening reception of the annual 2011 Scholastic Art Awards and Exhibition, features student artworks in all media, including painting, photography, video and sculpture. Hundreds of students in grades 7 – 12 will attend the January 24, 2010 kick-off ceremony and exhibition preview, giving children an opportunity to experience the museum as artists. This event is free and open to the public.
Miami Art Museum will host the 2011 Scholastic Art Awards and Exhibition for the 15th consecutive year, in collaboration with Miami-Dade County Public Schools. The annual exhibition, on view at the Miami Art Museum from January 23 through February 13, 2011, features approximately 250 Miami-Dade County middle and high school student artworks. Part of MAM & Schools presented by Target, the exhibition will kick off with an awards ceremony on Sunday, January 23 at 3pm when school district officials announce awards in each category as well as artworks and portfolios that will be submitted for national competition.
Of more than 2,200 student artworks submitted by teachers, approximately 250 are selected by a jury for the Scholastic Art Awards regional exhibition at Miami Art Museum. Every year, local award winners compete on the national level in New York City. Students from Miami-Dade County schools consistently rank among the top winners at the national level, and have set records for the number of awards won by the students of a single school district. In 2010, students from Miami-Dade County won 10 national awards.
"Education is at the heart of Miami Art Museum's mission, and we are proud to have hosted the prestigious Scholastic Art Awards since 1996," said MAM Director Thom Collins. "Miami Art Museum and Miami-Dade County Public Schools work together very closely to ensure that the students in Miami-Dade County have the opportunity to experience art and the Museum.
Miami Art Museum's educational programming currently reaches more than 30,000 annually, with the largest youth art education program outside the Miami-Dade County public school system. The Museum serves thousands of children through its free program: free buses to visit MAM, free guided museum tours for students and their teachers, free classroom visits, free support materials for teachers at Teacher Workshops, and more. Miami Art Museum's new facility in Museum Park, scheduled to open to the public in 2013, will include an educational complex with space to further expand MAM & Schools and other art education programs.
The Scholastic Art Awards are the largest and longest-running assessment and recognition programs for the visual arts in the United States. Founded in 1923 by Scholastic Inc., the nation's leading publisher of children's books and educational materials, the awards have been administered since 1992 by the Alliance for Young Artists & Writers, a not-for-profit corporation. The awards are open to students in grades 7-12 in the United States, Canada, U.S. Territories and U.S.-sponsored schools abroad. Entry materials reach 12 million students in 99% of America's schools (public, private, and parochial) and attract more than 250,000 entries each year. Miami-Dade County Public Schools is the regional sponsor of The Awards.
At the conclusion of this Miami-Dade County regional exhibition, one of 92 across the country, top award-winning artworks are forwarded to the national program in New York City. A distinguished panel of prominent artists and arts professionals selects the national awards. National awardees are honored at the Scholastic Art & Writing Awards ceremony at Carnegie Hall. Award-winning artwork is installed in galleries in New York; and at the Corcoran Gallery of Art in Washington, D.C. adjacent to the White House.
The 2011 Scholastic Art Awards and Exhibition is part of MAM & Schools presented by Target. Additional support for this program is provided by The Heckscher Foundation for Children, William Randolph Hearst Foundation, Citizens Interested in Arts, Inc. and MAM Annual Education Fund Donors.
Miami Art Museum
Miami Art Museum, a modern and contemporary art museum located in downtown Miami, FL, is dedicated to collecting and exhibiting international art of the 20th and 21st centuries with an emphasis on the cultures of the Atlantic Rim—the Americas, Europe and Africa—from which the vast majority of Miami residents hail. Recently, Miami Art Museum has presented exhibitions of works by Janet Cardiff and George Buress Miller, Carlos Cruz-Diez, Quisqueya Henriquez, Guillermo Kuitca, Wifredo Lam, Susan Rothenberg (November 2010) and Yinka Shonibare, and its Permanent Collection includes works by Doug Aitken, José Bedia, Mark Dion, Marcel Duchamp, Felix Gonzalez-Torres, Ann Hamilton, Arturo Herrera, Alfredo Jaar, Sol LeWitt, Vik Muniz, Wangechi Mutu, Robert Rauschenberg, Gerhard Richter, James Rosenquist, Tomas Saraceno, Lorna Simpson and Rachel Whiteread. The new Miami Art Museum at Museum Park, designed by Herzog & de Meuron, is scheduled to open to the public in 2013. The new facility will provide room to showcase growing collections, expanded exhibition space to bring more world-class exhibitions to Miami-Dade County, and an educational complex, which will be a resource for the entire community. For more information about Miami Art Museum, visit miamiartmuseum.org or call 305.375.3000.
Miami Art Museum is sponsored in part by the State of Florida, Department of State, Division of Cultural Affairs and the Florida Arts Council, and the National Endowment for the Arts; with the support of Miami-Dade County Department of Cultural Affairs, the Cultural Affairs Council, the Mayor and the Board of County Commissioners. Miami Art Museum is an accessible facility. For sign language interpretation or assistive listening devices please call Miami Art Museum's education department 305.375.4073 at least five days in advance. Materials in accessible format may be requested.