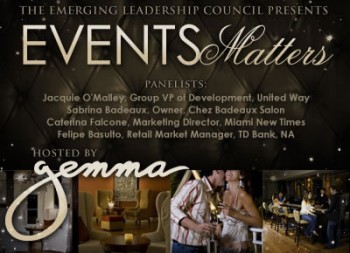 Join the Miami Beach Chamber of Commerce as they host a great lunch @ Gemma lounge (on Lincoln Road) Tues Jan 11th, featuring a panel of industry leaders as they discuss how to grow your business through hosting various types of events.
ELC Presents: "Events Matters"
Gemma Lounge
529 Lincoln Road
Miami Beach, FL 33139
Tuesday, January 11, 11:30 am to 2:00 pm
RSVP EARLY (2 or more days prior to the event) to get "The List" of Attendees »
Events help businesses seeking to personalize their local presence, brand their identity, and engage in positive community outreach. When done effectively, businesses that participate in events are positioned apart from their competitors, leaving a lasting impression in their markets.
The Emerging Leadership Council of the Miami Beach Chamber of Commerce has coordinated a panel of industry leaders to discuss how to grow your business through hosting your own events, the value of partnering with charities, seeking corporate sponsors and how to save money by participating in existing events that speak to your target audience.
$20 for Pillar Members • $25 for General Members • $35 for Non Members
Lunch and refreshments will be provided
The Events Matters panelists are:
Jacquie O'Malley, Group VP of Development, United Way
Sabrina Badeaux, Owner, Chez Badeaux Salon
Caterina Falcone, Marketing Director, Miami New Times
Felipe Basulto, Retail Market Manager, TD Bank, NA
For more information contact 305.674.1300 or valerie@miamibeachchamber.com.