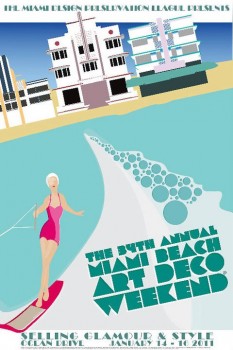 Art Deco Weekend 2011
Friday, January 14, 2011 – Noon – 11PM
Saturday, January 15, 2011 – 10AM – 11PM
Sunday, January 16, 2011 – 10AM – 8PM
Ocean Drive, Miami Beach FL
More Info.
The Miami Beach Art Deco weekend is a massive festival along Ocean Drive featuring numerous booths selling antiques, clothing, memoribillia, arts and crafts and much else from the Art Deco era. There are food vendors, live performers and numerous other activities.
During the 1920s and 30s, advertisers transitioned from simple one-on-one sales pitches to a broader and more subtle style of engaging larger audiences by eliciting feelings and selling ideas. Coupled with that was the rise in mass circulation magazines, national radio broadcasts, and the influential power of the motion picture—promotion took on a new meaning and advertising was forever altered.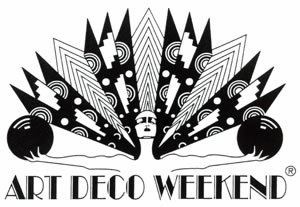 Art Deco Weekend Drive Parade
As is customary, the Art Deco Weekend Ocean Drive Parade will take place on Saturday at 11 a.m.. The Grand Marshal for 2011 will be the renowned Miami Beach Celebrity Elaine Lancaster. The Arf Deco Dog Parade will join along with the main Art Deco Parade. Dog participants and their owners are encouraged to dress in their most glamourous costumes and meet at 10:30 on Sat. Jan.15th at 6th Street and Ocean Drive just north of the yellow wash house in Lummas Park.
The Art Deco Classic Car Fest
The Art Deco Classic Car Fest, sponsored by the South Florida Antique Automobile Club of America, features true classics and awards trophies for best Pre-War and Post- War autos. All classic cars are eligible to be judged and are encouraged to participate.
Lecture Series
Guided Historic Walking Tours
Film Series
Art Deco Furniture Exhibit
Live Performances