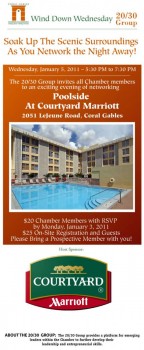 Join the 20/30 Group's
Wind Down Wednesday
Poolside at Courtyard Marriott
2051 Le June Road
Coral Gables, FL 33134
January 5, 2011
Click Here To Register!
Wind Down Wednesday is hosted by the 20/30 Group of The Coral Gables Chamber of Commerce. In an effort to unite the young professionals in The Gables, the 20/30 Group hosts events in which they can network and begin to build relationships with young professionals, much like themselves. This event takes place the first Wednesday of every month and is always a sellout crowd. So come out and join us for hors d' oeuvres and a cocktail because this Wind Down Wednesday is sure to be as much fun as the last!