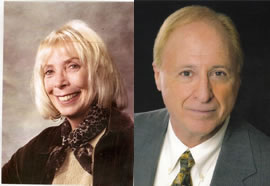 Love Letters
a play by A. R. Gurney
Saturday, Jan 15, 2011, 8 pm
Starring Barbara Fox and Sheldon Cohen
Tickets: $15 At The Door, $12 Online
Buy Now via Paypal.
Arts at St. Johns
4760 Pine Tree Drive, Miami Beach. FL 33140
The play features two characters, who began writing letters to each other when they were children and continued doing so throughout their lifetime. During a period of nearly 50 years, they discuss their hopes and ambitions, dreams and disappointments, victories and defeats.
Barbara Fox is the producer/director/writer for Mystery On The Menu, an interactive theater company she founded in Washington DC in 1986. She recently developed the one woman mystery series Murder Is Served which she performs on cruise ships and for corporate and private events. Barbara is the author of three mystery novel, Murder In The Inn, Another Murder In The Inn and Murder is Served and of Widowpedia (a little information about Internet dating and other matters for women in Act Two).
Sheldon Cohen – His acting career has spanned over 50 years, starting as an apprentice in Philadelphia at the famous Playhouse in the Park.
Sheldon is well known in South Florida appearing in many award-winning productions: Fiddler, La Cage, Titanic the Musical, Picon Pie, A Stoop on Orchard Street (national tour as well), A Midsummer Night's Dream, Westside Story, Beau Jest, Jest a Second, The Waverly Gallery, The Convertible Girl and the list goes on. His love for the theatre covers all aspects: drama, comedy, musicals and interactive.