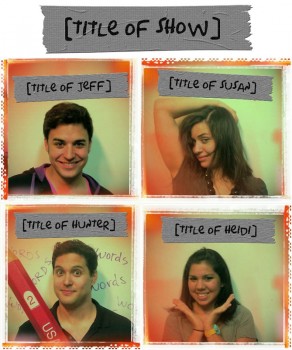 The Roxy Theatre Group Presents Title Of Show, An All Teachers' Production
January 7-9, 2011. Friday & Saturday, 8:00pm & Sunday, 3:00 p.m.
The Roxy Performing Arts Center, 1645 SW 107 Ave. Miami, FL 33165.
General Admission is $12 and Student Admission is $10 with student identification.
The Roxy Theatre Group (RTG), a non-profit arts organization for children, is proud to present Title of Show, a musical entirely comprised of RTG teachers. The Teachers have united to raise funds for The Roxy Theatre Group through their performances in this comedic and quirky musical tale. All proceeds benefit The Roxy Theatre Group's Teachers' Scholarship Fund. Title of Show is targeted for audiences ages 17 and up and Parental Discretion is advised.
The high-spirited ensemble is comprised of RTG's arts instructors.
TITLE OF SHOW is about how friendships and relationships are tested and changed while four friends attempt to create an original musical production for submission to the New York Musical Theatre Festival. This fun-filled production also chronicles its own creation and journey to Broadway. Music and lyrics by Jeff Bowen and a book by Hunter Bell. For tickets or more information please call 305-226-0030, email SusannePinedo@gmail.com or visit www.RoxyPAC.com. The Roxy Theatre Group, (RTG) a non-profit organization, offers classes in drama, voice and dance to children ages 3-17, with year-round programs including an after school care program and a performing arts summer camp.
Photo attached: The Roxy Theatre Group Teachers, Andrew Rodriguez-Triana, as Jeff, Nicole Quintana, as Susan, Charles A. Sothers, as Hunter and Monica Grimaldi, as Heidi in the musical comedy Title of Show.