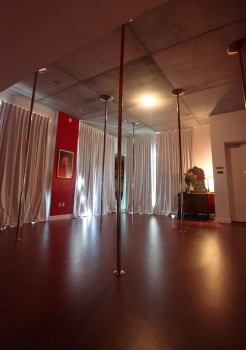 Work Off Holiday Poundage & Channel Your Inner Vixen with Kitty Kat Pole Dancing's Workshop with World Champion Pole Dance Artist, Felix Cane
Thursday, January 20, 2011
Kitty Kat Pole Dancing
3449 NE 1st Avenue
Suite 112
Miami, FL 33137
Kitty Kat Pole Dancing in Midtown Miami is hosting two workshops with World Champion pole dance artist, professionally trained dancer and Cirque du Soleil performer Felix Cane.
Felix's world-class performance talent and master teaching skills will guide participants through the signature workshops! Great for beginners who want to boost inner confidence, channel their inner vixen, whittle their waistlines post-holiday indulgences by signing up for one of the two workshops on Thursday, January 20, 2011:
· Strut, Spin & Floor Sequence from 7PM to 8PM:
o Learn how to stylize your walk to, from, and around your pole, turn basic spins into crowd pleasers with stylized body language and head flips, and develop a connection from the pole down to a slinky, smooth, seamless floor sequence.
o 60 minutes
o $99; reserve your spot by visiting www.kittykatpoledancing.com
· Tricks & Combos from 8:30PM to 9:30PM:
o Learn featured trick and inversion combinations, leg hangs with gravity defying signature combos including handsprings and a how-to tutorial on new material
o 60 minutes
o $99; reserve your spot by visiting www.kittykatpoledancing.com
Space is extremely limited; sign up today via PayPal at www.kittykatpoledancing.com and visit the "class schedules" tab, then "Felix Cane Workshop" tab for additional class information and payment instructions.