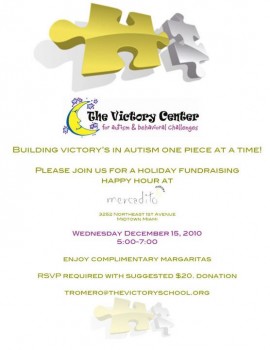 Building Victory's in Autism one piece at a Time
December 15, 2010, 5-7pm
Mercadito Restaurant
3252 Northeast 1st Avenue
Miami, FL 33137-4085
www.thevictoryschool.org
RSVP required with suggested $20 donation: tromero@thevictoryschool.org
Happy Hour with a cause benefiting The Victory Center for Autism & Behavioral Challenges
Join The Victory Center for Autism and Behavioral Challenges, Supermarket Creative, & Mercadito Restaurants by doing good within the South Florida community and enjoy complementary Margaritas at the same time!
Please join us for a holiday fundraising happy hour on December 15, 2010, from 5-7pm at Mercadito Restaurant. Mercadito will be providing a relaxed, intimate venue for the event, serving attendees with hors d'ouvres and complimentary open bar.
The Victory Center for Autism and Behavioral Challenges is a Florida non-sectarian, non–for-profit organization, that provides children with Autism and similar disorders comprehensive individualized therapy. The students receive one-to-one/ two-to-one student- teacher ratio therapy within a classroom setting based on the principals pioneered by B.F. Skinner and his Applied Behavior Analysis. The money raised at this event will help fund The Victory Center's educational programs and services such as primary and secondary schooling, life skills training, and respite programs.
We strongly believe that every child is a unique individual with their own special gifts and talents. With the help of The Victory Center, we can provide our students with a happy and healthier quality of life here in our own community.