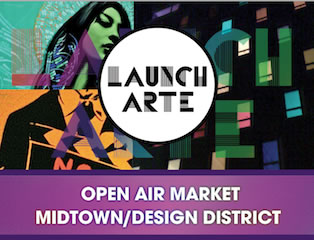 Launch Miami Market
Saturday, December 11, 2010, 12Noon- 6pm-Free to the Public
Open Air Artists & Designers Market
Holy Cross Santa Cruz Church
121 NE 36th St. & NE 1st Ave
(across the street the midtown target mall)
www.launcharte.com
Get your Holiday shopping on with selections of… .Jewelry/ Fashion/ Accessories/ Vintage Clothing/ Art/ handmade Leather Goods/ T-shirt Designers/ Paintings/ Home-decor/ One-of-a-kind rare finds and more…
Launch Miami Market offers the community direct access to the talented entrepreneurs who live and work in South Florida. From November through April, meet and browse the works of local Artists and Emerging Designers.
Your eat on: Jefe's Original – Grab your taco!
Doggi Style – Serving you from all angles!
Ms. Cheezious – Melting your craving!
Juan's Organic Guacamole -Made fresh while you wait! A must have!
Dessert: Dolci Peccati Gelato Truck – Satisfying your every sweet tooth!
Free to the public
Interested vendors email: reservations@launcharte.com
"Threading the community with local Artists and Designers"
www.launcharte.com