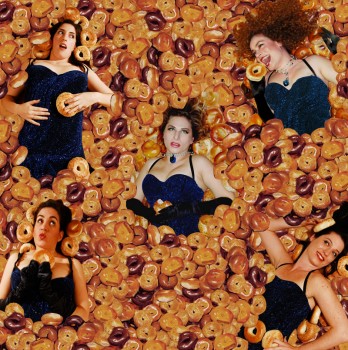 Hanukah Haiku featuring Nice Jewish Girls Gone Bad
Wednesday, December 8, 2010 at 7:00 p.m.
Next@19th (137 NE 19th Street, Miami)
Tel: 305.542.7732
www.nextat19th.org
Next@19th proudly presents a night of creativity, humor and entertainment with Hanukah Haiku and Nice Jewish Girls Gone Bad. On the brightest and last night of Hanakuh, poets, artists and writers will come together to share original haikus about Hanukah and Jewish culture at Next@19th in downtown Miami. Slated for December 8, 2010 at 7:00 p.m., this celebration also marks the official launch of the non-profit organization, whose goal is to move Jewish culture forward with an inclusive, cutting-edge program.
"I put the whore in hora," declares the Goddess Perlman, ringmaster and MC extraordinaire of Nice Jewish Girls Gone Bad – and so goes an evening of bashing all stereotypes ever uttered about Jewish women. Bringing a combination of comedy, parody and burlesque to South Florida on the last and brightest day of Hanukkah, please find below details of Next@19th's holiday celebration.
Burlesque entertainers Nice Jewish Girls Gone Bad bring a combination of parody and burlesque to the night: a refreshing mix of comedy, cabaret and spoken-word with must-have archetypal characters including the gals who learned to smoke at Hebrew School, got drunk at their Bat Mitzvahs and would rather have more schtuppa than the chupah. In keeping with the theme of the party He'Brew, 'The Chosen Beer,' will be on tap throughout the night.
This event will kick-off Next@19th's 2010 – 2011 season, which includes regularly-programmed thought-provoking and fun events. Arts, learning and spirituality happenings will unite cultural traditions, beliefs and introduce new facets of the Jewish identity. Next@19th's dynamic program takes an inclusive approach to sharing Judaism with members of any faith or background.
About Next@19th: Moving Jewish Culture Forward
Next@19th was founded in July 2010 to engage South Florida's diverse community in fresh culture, learning and spiritual experience through a Jewish lens. Producing original programming, the organization will host a range of events and activities. This 2010 – 2011 season promises celebrations of music, literary arts, visual art, education and spirituality as well as dynamic projects in partnership with Miami Book Fair International, the Jewish Film Festival and University of Wynwood. Next@19th is located at 137 NE 19 Street, Miami FL 33132, on the campus of Temple Israel's historic site in downtown Miami. For more information please call 305.542.7732 or visit the website at www.nextat19th.org.