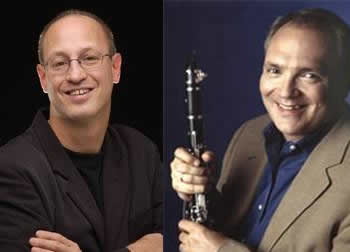 Jazz Dynamos Shelly Berg and Ken Peplowski featured in December Jazz Concert by Gold Coast Jazz
Wednesday, December 8, 2010
Broward Center for the Performing Arts.
The Amaturo Theater
201 SW 5th Ave, Fort Lauderdale, Florida
Purchase tickets through the Broward Center Box Office at 954-462-0222 or online at www.goldcoastjazz.org or www.browardcenter.org.
Jazz pianist Shelly Berg has been called one of the finest jazz pianists around today. Ken Peplowski has been compared to the legendary Benny Goodman for his incomparable swinging style on the clarinet. Both jazz dynamos will be featured in the next jazz concert presented by the Gold Coast Jazz Society on Wednesday, December 8, 2010. The show titled, Dynamos of Jazz, features the Shelly Berg Quartet with Ken Peplowski and takes place at the Amaturo Theater at the Broward Center for the Performing Arts. The Amaturo Theater is located at 201 SW 5th Ave, Fort Lauderdale, Florida. The concert begins at 7:45 pm. Single tickets are $35 and $40 and student tickets are $10 with student ID. Purchase tickets through the Broward Center Box Office at 954-462-0222 or online at www.goldcoastjazz.org or www.browardcenter.org. A pre-concert Jazz Riff jazz talk will be given by WXEL radio personality Stu Grant at 7:00pm in the theater before the show.
Dave Brubeck has raved that, "Shelly Berg is a great jazz pianist who has a total command of his instrument". A pianist, composer, arranger and educator, Berg brings a considerable array of talents to the jazz music scene. Versatility coupled with innate talent has shown to be the keynote of his career. Berg is currently Dean of the University of Miami's Frost School of Music, but makes time in his busy career to continue performing and touring. He is known for his collaborations with jazz vocalists, and he has performed, recorded, and arranged for Patti Austin, Monica Mancini, Bobby McFerrin, Kurt Elling, Dionne Warwick, Tierney Sutton, Lorraine Feather, and Carmen Bradford. He maintains a busy, worldwide schedule of jazz festival and club performances, and he has performed and/or recorded with a "Who's Who" of jazz legends, including Ray Brown, Louie Bellson, Eddie Daniels, Peter Erskine, Woody Herman, Clark Terry, and Bill Watrous to name a few.
A prolific composer and orchestrator, his orchestrations have been called "magnificent. . . incredible" by Johnny Mandel. He has orchestrated for Chicago, KISS, Carole King, Richard Marx, Joe Cocker, Elliott Smith, Lou Rawls, Steve Miller, and Ray Sings, Basie Swings (Concord Records' Ray Charles and Count Basie collaboration). Film orchestration work includes Warner Bros. Almost Heroes and For Your Consideration, Fox's Men of Honor, and the NBC Mini-series The 60's. He has also written for the Royal Philharmonic, the American Symphony, and orchestras worldwide.
According to the Jazz Journal International, "Ken Peplowski is one of those fine young Americans who are currently setting so much of the pace in all that's good in jazz." The late Mel Torme said ""Since the advent of Benny Goodman, there have been too few clarinetists to fill the void that Goodman left. Ken Peplowski is most certainly one of those few. The man is magic."
Peplowski has collaborated with a litany of musicians including Mel Torme, Leon Redbone, Charlie Byrd, Peggy Lee, George Shearing, Madonna, Hank Jones, Dave Frishberg, Rosemary Clooney, Tom Harrell, James Moody, Cedar Walton, Houston Person, Steve Allen, Woody Allen and Erich Kunzel. A past member of the Tommy Dorsey Orchestra, Ken joined the group under the direction of Buddy Morrow. "Buddy heard me with my quartet at a Cleveland jazz festival along with Teddy Wilson's trio and the Dorsey band, and made an offer right then," said Ken. When the legendary Benny Goodman came out of retirement and put together a new band, he hired Ken on tenor saxophone. Regarding his years with Goodman's band, he says, "I think Benny was as great a figure to the clarinet as Louis Armstrong was to the trumpet. He was an extremely tough band leader, but he was as demanding on himself as he was on us. Part of the key to unlocking the enigma of Benny was that he thought about music pretty much 24 hours a day."
With numerous recordings to his credit, Peplowski recorded for Concert Records for over a decade. His most recent albums have appeared on the Nagel-Heyer Records label and his 2010 CD Noir Blue is on the Capri Records label.
Tickets are still available for the December 8 performance. The Gold Coast Jazz Society is a not-for-profit organization that is dedicated to the preservation and promotion of jazz music through a mainstage concert series, free community concerts, jazz education programs and other events. Go online www.goldcoastjazz.org for more information about the Gold Coast Jazz Society or call 954-524-0805.
Funding for this organization is provided in part by the Broward County Board of County Commissioners as recommended by the Broward Cultural Council, the Annenberg Foundation and Funding Arts Broward. Season sponsors include DeMeo Young McGrath; HI Foundation; Morgan Stanley SmithBarney; Broward Center; the PaperMill, WLRN FM, and South Florida Consulting.
The Sunshine Jazz Organization invites members, new members and friends for this special gathering in celebration of Jazz & SJO!
SJO programs are presented with the support of the Miami-Dade County Department of Cultural Affairs and Cultural Affairs Council, the Miami-Dade County Mayor and Board of County Commissioners.
www.sunshinejazz.org
www.myspace.com/sunshinejazzorg
Promoting America's Precious Artform in South Florida Since 1986
Paid Promotional Distribution by: Jazz & Blues Florida www.JazzBluesFlorida.com.