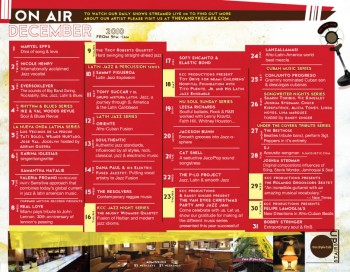 Upstairs at Van Dyke: IT'S NOT JUST JAZZ!
DECEMBER 2010
1- MARYEL EPPS
Diva of song & love
2- NICOLE HENRY
Internationally acclaimed Jazz vocalist
3- EVERSOKLEVER
The sounds of big band Swing Rockability, Ska, Jazz, Latin and Blues
4- RHYTHM & BLUES SERIES
IKE & VAL WOODS REVUE
Soul & Blues Revue
5- LA NUEVA ONDA LATINA POP MUSIC SERIES
Los Vecinos De La Noche, Tati Soleil, Wilmer hurtado, Jose Val, Jocelyn Hosted by Adrian Guerra
6- KARINA IGLESIAS
Singer/songwriter
SAMANTHA NATALIE
7- VALERIA PROANO
CD Release party
Sensitive approach that combines today's global current in Jazz & Latin American music
8- Forward Motion Records Presents
REAL LOVE
Miami pays tribute to John Lennon, 30th anniversary of his passing
9- KCC JAZZ NIGHT SERIES
The TROY ROBERTS QUARTET
Hard swinging straight-ahead Jazz
10- LATIN JAZZ & PERCUSSION SERIES
SAMMY FIGUEROA & LATIN JAZZ EXPLOSION
11- TONY SUCCAR y el Grupo Mixtura
latin. Jazz, a journey through S. AmericA & the Latin Caribbean
12- LATIN JAZZ SERIES
ORIENTE
Afro-Cuban Fusion
13- SOULTHENTIC
Authentic Jazz standards, influenced by all styles, Rock, Classical, Jazz & Electronic music
14- DANA PAUL & his Elektric
Fused Jazztet. Putting vocal artistry to Jazz Fusion
15- THE RESOLVERS
Contemporary reggae music
16- KCC JAZZ NIGHT SERIES
The MUSHY WIDMAIER QUARTET
Fusion of Haitian and modern Jazz idioms
17- SOFY ENCANTO & ELASTIC BOND
18- KCC Productions Presents
TOY DRIVE for MIAMI CHILDRENS' HOSPITAL FOUNDATIONwith TITO FUENTE, Jr. and his Latin Jazz Ensemble
19- NU SOUL SUNDAY SERIES
LEESA RICHARDS
Soulful ballads, Rock & R&B. Recorded with Lenny Kravitz, Faith Hill, Whitney Houston…
20- JACKSON BUNN
Smooth grooves into Jazz-o-sphere
21- CAT SHELL
A seductive Jazz/Pop sound songstress
22- THE P-LO PROJECT
Jazz, Latin & smooth Jazz
23- KCC Productions & Randy Singer Presents
THE VAN DYKE CHRISTMAS PARTY and JAZZ JAM
Come celebrate with us. Lets us show our gratitude for making all the different music series presented this year successful
24- LANZALLAMAS!
Afro-Latin-America world beat mezcla
25- CUBAN MUSIC SERIES
CONJUNTO PROGRESO
Grammy nominated Cuban son & descargas cubanas
26- SONGWRITER NIGHTS SERIES
Sharin Toribio, Vic Kingsley, Joshua Stedman, Chuck Kirkpatrik, Alicia Toney, Linda Noyes, Lina Marquez hosted by Randy Singer
27- UNDER THE COVERS TRIBUTE SERIES
THE BEETHOSE
Beatles tribute band, perform Sgt. Peppers in its entirety
28- SJ
Acoustic songman
JOSHUA STEDMAN.
Original compositions influences of Sting, Stevie Wonder, Jamiroquai and Seal.
29- KCC Productions Presents
THE ROLANDO GROOSCORS SEXTET
"An incredible guitarist with an amazing musical vocabulary" New Times
30- KCC Productions Presents
FELIPE LAMOGLIA's
New Directions in Afro-Cuban beats
31- BOBBY STRINGER
Extraordinary Soul & RnB