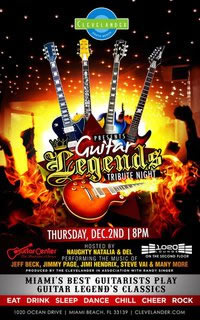 Thursday, December 2, 8:00pm – 1:00am
1020 Lounge (2nd Flr. of the Clevelander)
1020 Ocean Dr.
Miami Beach, FL
The Clevelander Presents: The First Annual Guitar Legend Tribute Night 2010!
Free Raffle Of A New Red Epiphone Les Paul Guitar, courtesy of Guitar Center
Featuring South Florida's top guitar players, performing the world's most acclaimed "Guitar Anthems", covering styles and biggest hits from guitar legends including Carlos Santana, Joe Satriani, B.B. King, and more!
Hosted by Naughty Natalia, Del, Randy Singer, Fernando Perdomo and Camilo Velandia.
Guitarists: Mitch Farber, Dan Warner, jimmy fiano, Lindsey Blair, Aaron Lebos, Jacin Nagao, Alvaro Bermudez, Brev Sullivan, Jimmy Powers. vocalists: Cat Shell, Jordan Brown, michael joe santomaso, and others
Performing the music of
Eric Johnson,Joe Satriani, Larry Carlton, Robben Ford, Jimmy Page, john Mayer, jeff beck
Thank you for using Soul Of Miami!