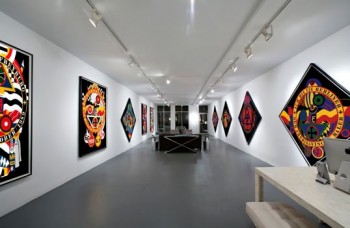 Etra Fine Art Shows Robert Indiana's "The Hartley Elegies"
December 1, 2010 through January 31, 2011
Etra Fine Art, 50 NE 40th St., Miami, FL, 33137
Monday to Saturday, 10:00 a.m. to 6:00 p.m.
Etra Fine Art in Miami's Design District features Robert Indiana's "The Hartley Elegies," beginning during Art Basel week. The exhibition will be on view through January 31, 2011 at Etra Fine Art, 50 NE 40th St., Miami, FL, 33137, (305) 438-4383, www.etrafineart.com. Monday to Saturday, 10:00 a.m. to 6:00 p.m.
The Hartley Elegies consist of 10 large-scale prints created by Robert Indiana in admiration of American modernist painter and poet Marsden Hartley. These pieces are often considered the most powerful and successful works he ever produced. Indiana views them as his most personal because they reflect not only his identity, but also that of his idol Marsden Hartley.
The imagery in Robert Indiana's The Hartley Elegies is drawn straight from Hartley's 1914-15 "German Officer" paintings. They encompass symbolism from Hartley's paintings, as well as Indiana's, into an anomalous hard-edged style. Critics and scholars agree that The Hartley Elegies are one of the most compelling and substantial works of art ever created by Robert Indiana.
In Liz K. Sheehan's catalogue essay "Robert Indiana: Painter of Signs" she writes, "the Elegies cement and celebrate the numerous connections between two men, their lives and artistic achievements, and honor one of Maine's most celebrated artists. The full suite of ten serigraphs, reproduced together for the first time in this volume, is one of Indiana's most complex projects. Robert Indiana's signs point us toward a broader understanding of Marsden Hartley's work and the inspiration it holds for contemporary artists, who continue to find relevance in its depths."
Born Robert Clark, he adopted the name Indiana as a tribute to his home state. After receiving a degree from the Art Institute of Chicago in 1953 and a traveling fellowship to Europe, he moved to New York City. He became part of an artist community that included Ellsworth Kelly and Jack Youngerman, and began to experiment in geometric pop art styles. Although he came to prominence during the 1960's, his concerns have always differed greatly from those of his contemporaries. Whereas the general pop movement took interest in the mass media and trappings of consumer culture, Indiana was drawn to Americana and national and cultural identity. Indiana now lives in Vinelhaven, Maine – the same town that Marsden Hartley once worked.
Visitors to Miami during Art Basel week will have a rare opportunity to view the celebrated work of an artist described as "the most American of American artists." Stefano Campanini, Owner of Etra Fine Art comments on the gallery's latest addition: "I am ecstatic to bring to Miami an exhibition of one of the greatest masters of 20th century. "The Hartley Elegies" is one of the most compelling and personal works of Robert Indiana. This exhibition in the past has only been seen together in two museums and now in Miami at the height of the season."
Alicia Restrepo and Stefano Campanini founded Etra Fine Art in 2004 after almost two decades in Soho, NY. The gallery has strived to bring the best artists to Miami and its international audience. Etra Fine Art has been the backdrop to many social events, poetry readings, theatre performances and inspiring lectures. More information about the gallery's artists and exhibitions can be found at www.etrafineart.com.
Photo: Interior Shot of Etra Fine Art in Miami's Design District by Simon Hare Photography