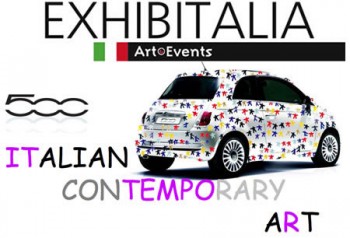 Ilaria Niccolini Production in collaboration with Cabrini and Associates Italy-America Chamber of Commerce Southeast and with the special support of FIAT and Ducati Miami presents
Exhibitalia,
the first Italian Pavilion of contemporary arts
Curator Maurizio Vanni, Director of Lucca Center of Contemporary Art, Italy
Dec.1 – Dec. 6, noon to midnight daily
70 NW 25th. St.
Wynwood Arts District
exhibitalia.com
Exhibitalia, the Italian Pavilion shows more than 40 artists and 200 artworks in its 15,000 sq ft of outdoor and indoor exhibition spaces. The show has been curated by Maurizio Vanni director of Lu.C.C.A. Center of Contemporary Art, the trendiest center for contemporary arts in Italy.
Fiat & Art Students from Miami Universities
FIAT will hold a competition among the enthusiastic hands of the students of the Art departments of Miami universities, under the supervision of the talented Christian Balzano, an internationally recognized artist with a long experience in international exhibitions. Christian was specifically selected for Exhibitalia by Fiat and the Lu.C.C.A. Museum.
Exhibitalia on Photography
Renowned magazine photographer Colleen Duffley will devote three afternoons to photo shoots involving the public and sponsors. An ad-hoc set will be created using three of the new FIAT 500 cars, that will also be the protagonists of all the activities taking place daily at Exhibitalia.
In addition, Shots Gallery of Bergamo, Italy, will present photographs by Mario De Biasi (black and whites of the 40ies and 50ies) and Pietro Masturzo, recent winner of the World Press Award 2010.
Ducati Tours in 1189 Superbike
Ducati will keep the pace with daily events centered around the new 1189 Superbike, that will tour the city for photo shoots.
International Artists in Exhibitalia
Italian artists and European colleagues and friends: nine international guests of Exhibitalia, from Germany, Greece and Venezuela, will be presented by Euart.
Italian contemporary Arts
Works by 26 Italian contemporary artists presented by Art-Events.
Ken Scott silk and ceramic collection
Courtesy of the Italian Cultural Institute in Washington DC with Fondazione Sartirana Arte and Ilaria Niccolini Production.
About Exhibitalia
Exhibitalia, is the first Italian Pavilion devoted to the excellence of contemporary arts, in the Wynwood Arts District of Miami. Curated by Maurizio Vanni. 15,000 sq ft of outdoor and indoor exhibition spaces, more than 40 artists and 200 artworks, 20 mobile walls, and three major international sponsors: FIAT (Chrysler), Ducati Miami, and SEA Milano Airports.
The guiding thread of the whole Exhibitalia experience will be the human flow, the crowds, the analysis of intermingling paths and the opportunities for reflection provided by Cabrini's "small men".
On the web exhibitalia.com / luccamuseum.com/ sandrocabrini.it/ ilarianiccolini.com/ euart.org/ shotsgallery.it/ galleriapoliedro.com/ syrlin-kunstverein.de/ studiobthebeach.com/ colleenduffleyphotography.com
Information Via Art Circuits Press Releases