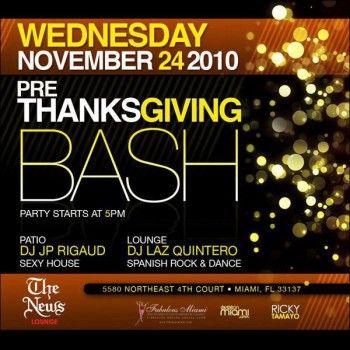 The News Lounge Pre-Thanksgiving Party@The 55th St Station!
5580 Ne 4th Ct, Miami, 33137 (55st & Biscayne Blvd)
Miami, FL
Great Bottle Specials – 2 Goose for $350
Complimentary admission on FABIAN's guest list.
Resident Dj's Laz Quintero & JP Rigaud bring you the best of open format beats in the lounge & Sexy & International House in the patio!
The News Lounge opened in the Summer of 2008 in the courtyard located at the center of 55th Street Station. It is the crown jewel of this mixed-use complex, located just north of the Soyka restaurant and adjacent to Sushi Siam.The News Lounge's roots stem from the News Café on Ocean Drive, which was founded in 1988. Unlike its big brother, however, it has a limited appetizer and tapas menu and features an eclectic modern "Metropolis" décor with a beautiful indoor bar, unique lounge and mirror room, plus a 100 seat outdoor garden courtyard: our mini version of Miami Beach's Lincoln Road, featuring an outdoor island bar, two outdoor pool tables, large outdoor video screens, swings, a bed for lounging and a variety of seating areas for your private enjoyment. The News Lounge features house and special guests DJs along with live music, art installations a variety of entertainment programing each night of the week.
The News Lounge accepts a variety of private and semi-private events and parties and caters to a wide range of special needs.