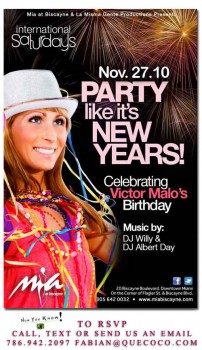 ✖‿✖ Saturday's Upscale Event "Party Like it's New Year"
Mia at Biscayne
20 Biscayne Blvd
Miami, FL
Facebook evite.
Saturday, November 27 · 5:00am – 8:00am
FABIAN invites you to celebrate this Saturday like if it was NEW YEAR'S EVE
Party favours will be passed down to all our guest.
(whistles + hats + and a lineup of wonderful music)
As a state of the art facilities, Mia provides amazing decor and the most incredible cocktails are waiting for you this Saturday
It is highly recommended that you reserve tables in advance to ensure admission. We Have Fabulous Bottle Specials.
To Rsvp – MiamiFabian@Hotmail.com or 786.942.2097
Upon Arrival Inform The Door Staff That You And Your Guests Are In
✖FABIAN'S LIST✖
Guest list valid till 12:30am . To be on the Guest list please send us an Email OR a text 786.942.2097 MiamiFabian@Hotmail.com
Girls In Free All Night Assuming That You Rsvp
21+.Dress code is strictly enforced.
follow us on twitter @miamifabian
www.quecoco.com
Thank you for using Soul Of Miami!