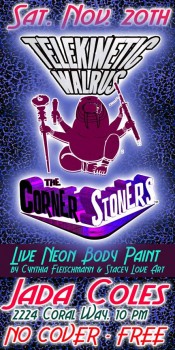 Cyber Cat Sex Party with The Cornerstoners and Telekinetic Walrus at Jada Coles
November 20 2010, 10 pm
Jada Coles
2224 Coral Way Miami Fl 33145
305-456-9242
jadacoles.com
The Cornerstoners and Telekinetic Walrus and the Pride of Ions join forces once again for a night of jungle space cat sex party madness!
Word on the street is these two bands have been making songs together.
Will they perform these songs at this show? you'll just have to come and see!
Anyone willing to be body painted? Neon or otherwise? We will have live body painting by Cynthia Fleischmann and Stacey Love Art for your artistic exploratory pleasure.
Come Rage&Glow under Black Lights.
No Cover! Absolutely FREE show! Bring your livers and your will to RAGE!!
Telekinetic Walrus and The Pride of Ions
www.facebook.com/telekineticwalrus
The Cornerstoners
www.facebook.com/TheCornerstoners
Two Bands of completely different genres with the same message.