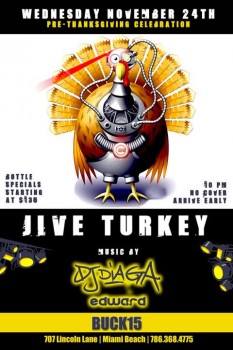 Jive Turkey
11/24/10, 10pm/
Buck15
707 Lincoln Lane North
Back door alley above miss yips.
BUCK15.net
Join us as we give thanks and celebrate Thanksgiving 2010. No Cover all night ! We suggest you arrive early. Doors open at 10 pm. We offer bottle specials starting at just $135.
Music by DJ DIAGA & EDWARD.
See you on the dancefloor !
For reservations: MJ- 786-368-4775
Thank you for using Soul Of Miami!