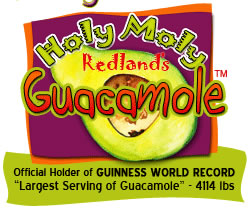 Saturday, November 6th from 10am – 5pm for the Holy Moly Redland's Guacamole celebration of our local Florida "Green Skin" avocado with a student showcase of culinary talents, agriculture products, and artists.
We will have live music, recipe competition between the schools, food and art for sale and tons of fun! Make plans to stick around after the Celebration for Saturday Night @ the Winery featuring Bryan Gonzalez. Your ticket from the Celebration is also your ticket into Saturday Night.
Tickets are $6 and you can purchase tickets at the Winery, or from any of our committee volunteers.
All proceeds under the Schnebly Seed2Fork Foundation benefit South Florida students in pursuit of degrees in culinary arts, agriculture, and hospitality management.
Schools Involved:
• South Dade Senior High
• John A. Ferguson Senior High
• Robert Morgan Senior High
• Homestead Senior High
• Young Men's Academy @ MacArthur South
• In conjunction w/Miami Culinary Institute at Miami Dade College