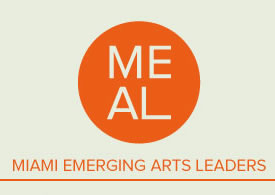 CREATIVE CONVERSATION 2010
Every year, in honor of National Arts & Humanities Month, Americans for the Arts partners with emerging leaders from across the country to host Creative Conversations.
Tuesday, Nov 9, 2010
9am-12noon
Art Deco Welcome Center
1001 Ocean Drive, Miami Beach, Florida
Light breakfast and networking
Program is free with your reservation. Space is limited!
Click here to RSVP or call (305) 375-4634
Arts Advocacy:
Take it to the Next Level
Featuring:
Katy Sorenson, Miami-Dade County Commissioner, District 8
Mayte Canino, Public Affairs Coordinator / Planned Parenthood of South Florida & the Treasure Coast
Mara Leventhal, Senior Project Manager/ LSN Partners
Are you a young and/or new arts administrator?
Do you want to connect with other young arts professionals?
Come learn how to be an effective advocate and meet your fellow arts professionals in Miami-Dade County!
About the Speakers
Commissioner Katy Sorenson (District 8), representing southern Miami-Dade County since 1994 has been an outspoken advocate for her community and all of Miami-Dade County. Commissioner Sorenson's District encompasses more than 170,000 residents of diverse backgrounds, includes three cities, and a significant portion of the agricultural lands of the County. She has worked diligently to enhance the quality of life for South Miami-Dade through wise economic and growth management policies, crime prevention initiatives, and protection of the region's environmental resources. She has been a staunch advocate for human rights, a champion of regional cooperation, a leader in child welfare issues, and a promoter of the arts.
Mara Leventhal is a Senior Project Manager at LSN Partners, a government relations firm located in Miami Beach. Mara's professional experience includes work in media, non-profit organizations and politics. Since moving to Miami, Mara has freelanced for the Miami New Times; planned events and managed communications for the Women's Fund of Miami-Dade; and served as a campaign manager for a state senate race during the 2008 election. At LSN Partners, Ms. Leventhal is frequently in contact with elected officials and their senior staff. She has created materials for LSN's clients to present to Governors and members of Congress.
Mayte Canino is a Public Affairs Coordinator with Planned Parenthood of South Florida and the Treasure Coast. She began her career working for political campaigns and eventually worked for a member of Congress from Puerto Rico. Upon returning to Miami, Ms. Canino ran many political campaigns including Jim Davis' campaign where she served as his Hispanic media spokesperson and the Director of the Hispanic field campaign. Before dedicating her career to non-profit organizations, she served as the legislative aide to Congresswoman Debbie Wasserman Schultz.
What is the Miami Emerging Arts Leaders?
The Miami Emerging Arts Leaders is a leadership development initiative of the Miami-Dade County Department of Cultural Affairs to identify and cultivate the next generation of arts leaders in our community. This program is modeled after a successful emerging leader program initiated in 1999 by Americans for the Arts (www.americansforthearts.org), the nation's leading nonprofit organization for advancing the arts in America.
Who are Miami Emerging Arts Leaders?
The Miami Emerging Arts Leaders are young and/or new arts administrators, generally under 35 and/or with less than 5 years of experience in arts management. Emerging Leaders share the desire to enhance their leadership capacity and the drive to develop innovative, effective and responsible management practices.
How do I participate?
Contact Liliana Hernandez-Constenla at 305-375-4634 or click here to join the mailing list for event notices. The Miami Emerging Arts Leaders meet monthly for events, meetings and workshops at various cultural venues throughout Miami-Dade County.
111 NW 1 ST, Suite 625 Miami, Florida 33128
t 305.375.4634
f 305.375.3068
www.miamidadearts.org
Michael Spring, Director