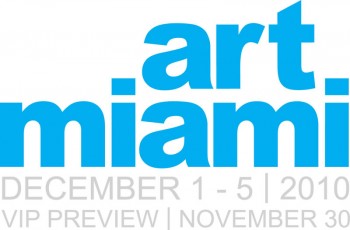 Art Miami 2010
The Art Miami Pavilion
The Miami Midtown Arts District
Midtown Blvd (NE 1st Avenue) between NE 32nd & NE 31st Street
Miami, FL 33137
Wednesday, December 1 11am – 7pm
Thursday, December 2 11am – 7pm
Friday, December 3 11am – 7pm
Saturday, December 4 11am – 7pm
Sunday, December 5 11am – 6pm
VIP Preview/First View: Tuesday, November 30
Benefit for Lotus House Women's Shelter – $25 donation, 5:30pm-7pm
VIP Preview/Access for Art Miami VIP Cardholders & Press, 7pm-10:30pm
www.art-miami.com
Art Miami showcases the best in modern and contemporary art from 100 international art galleries and prominent art institutions.
Art Miami, Miami's longest running contemporary art fair, will once again electrify the city from December 1 – December 5, 2010. As the anchor art fair to the city of Miami, the fair will return with a compelling array of modern and contemporary artwork from over 100 international galleries and prominent art institutions. Art Miami will be held in a state-of-the-art 100,000 square foot pavilion in Midtown Miami's burgeoning Wynwood Arts District.
Now in its 21st year, Art Miami will kick off Art Week with its opening night on Tuesday, November 30, 2010. Art Miami's highly anticipated Opening Night VIP Preview will benefit The Lotus House Women's Shelter, a quiet enclave in downtown Miami that offers a sanctuary for homeless women and infants in need. The exclusive evening is the first opportunity for VIP collectors to acquire some of the finest pieces of modern and contemporary art from the 20th and 21st centuries while also raising money for an important cause. Last year, Art Miami's Opening Night Preview attracted over 6,500 international collectors, philanthropists, museum professionals, curators and journalists.
With over 100 prestigious international galleries participating, Art Miami is a "can't miss" event for serious collectors, museum professionals, curators and art enthusiasts. Exhibitions at the fair will include modern and contemporary paintings, drawings, sculpture, photography and prints from Europe, Asia, Latin America, India, the Middle East and the United States. Distinguished for its depth, diversity and quality, Art Miami maintains a preeminent position in America's contemporary art fair market.
"As Miami's anchor fair, we have maintained the reputation as an unrivalled venue for acquiring innovative contemporary and modern art. We provide a platform for both seasoned and emerging galleries to showcase their artists. Art Miami is different in its approach—it is a fair that represents an overall cross section of the contemporary art market. The diverse range of disciplines and price-points provides a unique opportunity to collectors, at all levels, to explore their interest in both primary and secondary works of art. The depth and quality of works for sale at Art Miami, coupled with the relaxed ambience and elegant design of our pavilion, creates a welcoming and enjoyable experience for our visitors and exhibitors alike," said Nick Korniloff, Director of Art Miami.
Kaj Forsblom, owner and Director of Galerie Forsblom, one of Scandinavia's leading international galleries, said: "Art Miami has long since been an important mainstay in Miami's cultural and artistic community. Particularly in the last few years, Art Miami has proven itself as one of America's top fairs with its dedication to continuous growth and improvement. We are looking forward to returning to an even greater Art Miami with stronger galleries, more collectors, and a truly professional show management."
Always seeking to enhance the experience of the fair for its attendees, Art Miami will host a series of compelling lectures and panel discussions with some of the leading voices from the international art scene. In addition, visitors can look forward to art projects curated by the esteemed Julia Draganovic. The curated projects include indoor and outdoor exhibitions, as well as Art Video and New Media installations on loan for exhibition from prominent institutions and private collections.
Art Miami 2010 participating galleries:
Aperture Foundation, Aldo De Sousa Gallery, Antoine Helwaser Gallery, Aperture Foundation, Arcature Fine Art, Art Nouveau Gallery, Arthur Roger Gallery, Atlas Gallery, Barry Singer Gallery, Bernice Steinbaum Gallery, Blue Leaf Gallery, Bolsa De Arte, Brancolini Grimaldi, Bridgette Mayer Gallery, Bullseye Gallery, C. Grimaldis Gallery, Caldwell Snyder Gallery, Cassera Arts Premiers, Catherine Edelman Gallery, Charlotte Jackson Fine Art, Chinasquare Gallery, Claire Oliver Gallery, Contemporary Works / Vintage Works, Contessa Gallery, Cynthia Corbett Gallery, Cynthia-Reeves, David Klein Gallery, David Lusk Gallery, Denise Bibro Fine Art, Dillon Galleries Inc., Dot Fiftyone Gallery, Douglas Dawson Gallery, Durban Segnini Gallery, Edelman Arts Contemporary, Eli Klein Fine Art, Evelyn Aimis Fine Art, Fama Gallery, Ferrin Gallery, Flowers, Galeria Patricia Ready, Galerie Bernd Lausberg, Galerie Forsblom, Galerie Mark Hachem, Galerie Olivier Waltman, Galerie Patrice Trigano, Galerie Renate Bender, Galerie Terminus, Galerie Von Braunbehrens, Gallery Ferran Cano, Gana Art, Ginocchio Gallery, Goya Contemporary, Greg Kucera Gallery, Inc., Hackelbury Fine Art, Heller Gallery, Hollis Taggart Galleries, Jackson Fine Art, James Barron Art, James Graham & Sons, Jenkins Johnson Gallery, Jerald Melberg Gallery, Joel Soroka Gallery, Juan Ruiz Galeria, Katharina Rich Perlow Gallery Inc., Kreisler Art Gallery, Laurence Miller Gallery, Leonhard Ruethmueller Contemporary, Leon Tovar Gallery, Lisa Sette Gallery, Mark Borghi Fine Art Inc., McCormick Gallery / Vincent Vallarino Fine Art, Michael Goedhuis, Mike Weiss Gallery, Modernbook Gallery Editions, Modernism Inc., Nancy Hoffman Gallery, Nicholas Metivier Gallery, Now Contemporary Art, Pace Primitive, Pace Prints, Pan American Art Projects, Piece Unique, Richard Levy Gallery, Rosenbaum Contemporary, Roy Boyd Gallery, Rudolf Budja Gallery LLC, Schantz Galleries, Schuebbe Projects, Scott White Contemporary Art, Sundaram Tagore Gallery, Susan Eley Fine Art, Susan Teller Gallery, Tai Gallery, Timothy Yarger Fine Art, Tresart, Turner Carroll Gallery, Tyler Rollins Fine Art, Walter Wickiser Gallery Inc., Waterhouse & Dodd, Westwood Gallery, Wetterling Gallery, Wilde Gallery, William Shearburn Gallery, Woolff Gallery.
The Lotus House is a unique resource center and residential facility serving homeless women and infants, whether due to domestic violence, untreated medical or mental illness, disability or economic reasons. For many, it is a shelter of last resort, providing them with the treatment and support to truly break the cycle of homelessness. Art Miami's highly anticipated Opening Night VIP Preview, on Tuesday, November 30, 2010, will benefit The Lotus House. For more information on the Lotus House visit: www.lotushouseshelter.org.