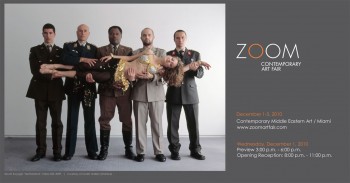 ZOOM Contemporary Art Fair
December 1-5, 2010, 12pm-8pm
South Seas Hotel
1751 Collins Avenue
Miami Beach, FL 33139
General Admission
Thursday, December 2, 2010, noon to 8:00 p.m.
Friday, December 3, 2010, noon to 8:00 p.m.
Saturday, December 4, 2010, noon to 8:00 p.m.
Sunday, December 5, 2010, noon to 6:00 p.m.
www.zoomartfair.com
Professional Preview: Wednesday, December 1, 2010, 3:00 p.m. to 6:00 p.m.
Opening Night Preview Reception: Wednesday, December 1, 2010, 8:00 p.m. to 11:00 p.m.
Zoom 2010 Announces Its Inaugural Showcase Of Contemporary Art From The Middle East
Curated by Sam Bardaouil and Shamim M. Momin Event Establishes an Alternative Framework for Art Fairs
October 16, 2010, New York, NY—Bringing a fresh voice and perspective to the mainstream art circuit, ZOOM Contemporary Art Fair announces their inaugural event will showcase the multifarious styles, media, and genres permeating the burgeoning contemporary arts scene of the Middle East and its diaspora. ZOOM presents a cohesive perspective that uses exhibitions, educational programming, and curatorial input to foster an interconnected discourse. Exploring an unconventional framework, ZOOM's Selection Committee is comprised of curators Sam Bardaouil (Art Reoriented) and Shamim M. Momin (Los Angeles Nomadic Division LAND, former Whitney Museum), who together with Director Angeliki Georgiou have produced an intimate collection of 20 exhibitions showcasing artists by non-profit organizations and galleries from 11 countries.
ZOOM Advisory Committee: RoseLee Goldberg, Founder and Director of Performa; Annie Cohen- Solal, French academic, writer, historian, and biographer; Karen Meyerhoff; former Managing Director of Exhibitions, Collections and Design, Solomon R. Guggenheim Museum.
ZOOM Exhibiting Partners include: Townhouse (Cairo), Barjeel Art Foundation (Sharjah), Artist Pension Trust (Global), Artis (NYC/Tel Aviv), Outlet Independent Art Space (Istanbul), ArteEast (NYC), LTMH Gallery (NYC) and AYYAM Gallery (Dubai).
This groundbreaking event, which will take place in Miami, December 1-5, 2010, provides a platform for internationally acclaimed artists including Khaled Hafez, (Egypt), Shoja Azari (Iran), Zoulikha Bouabdella (Morocco), Nazif Topcuoglu (Turkey), Sara Rahbar (Iran), and Halim Al Karim (Iraq). These artists will feature their pieces alongside dynamic newcomers like Ayman Baalbaki (Lebanon), Orit Ben-Shitrit (Israel) and Abdulnasser Gharem (Saudi Arabia). Director Angeliki Georgiou stated, "With the growing visibility of Middle Eastern artists throughout the international art community and the art market alike, ZOOM aims to take a closer look at the diverse art trends currently pervading the region". ZOOM gives much deserved exposure to a burgeoning Middle Eastern art community while establishing itself as the essential gathering place for collectors, artists and art professionals.
"ZOOM's genius lies in its focused yet open-ended approach," says Sam Bardaouil, co-founder and curator of Art Reoriented. "By changing its thematic focus it will allow for a succession of worthy explorations which, while adding to the diversity of the international art fair scene, can allow for an educational experience accessible to the international arts crowd." Debates, ZOOM's educational program curated by Art Reoriented, will bring together notable international figures that will address current contemporary Middle Eastern art issues. Hosted at the neighboring Bass Museum of Art in Miami Beach, Debates participants include Susan Cotter, Curator of Exhibitions, Guggenheim Abu Dhabi Project; William Wells, Founding Director of Cairo's Townhouse; Jessica Morgan, the Daskalopoulos Curator, International Art, Tate Modern; Francois Pouillon, Department Head of the History of Mediterranean Islamic Program at École Des Hautes Études En Sciences Sociales; Livia Alexander, Executive Director of ArteEast; León Krempel, Curator, Haus der Kunst, Munich and internationally renowned artists Sara Rahbar and Ahmed Mater.
For more information about ZOOM Contemporary Art Fair please visit: www.zoomartfair.com