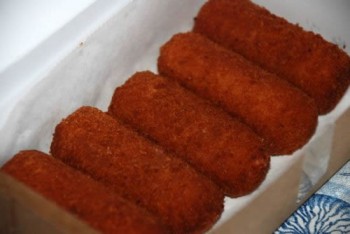 Sunday, December 19 at 11:00am
Versailles Cuban Restaurant (Bakery Side)
3555 SW 8th Street (Calle Ocho)
Miami, Florida 33135
RSVP Here.
Hosted By: @LizaWalton
Hashtag: #CroquetaCrawl
We're putting the debate to rest once and for all!
Who makes the best croqueta in Miami? Are you a small and crispy fan? Do you prefer ham, chicken, cheese, or spinach?
Join us for the first ever Croqueta Crawl!
We'll be stopping at some of the best croqueta spots in Little Havana and Coral Way:
Versailles
Gilbert's Bakery
Ricky Bakery
El Brazo Fuerte
Islas Canarias
*Think Green: Let's Meet at Versailles, and carpool to the next locations.
*Also, if you would like to submit a location to the list, please let us know!