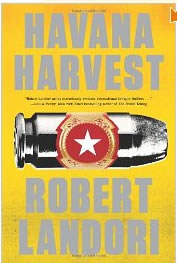 Just read Havana Harvest
by Robert Landori
.  This novel takes place in the late 80's and centers around the United States and Cuba relations and is loosely based on real events.  The main character is an American CIA agent and it takes us though his involvement and the realization of what is actually happening and along with him are some very top ranking characters inside the Castro regime, spies from both sides and he adds a bit of romance to make it a wonderful novel.  If you like spy thrillers this is a book for you.
From the Publisher:
Though the book is fiction, it reveals the inside politics within the government and the police agencies in Cuba. I believe the book has a strong sense of the typical Cuban's philosophy enshrined throughout its pages, personified in the character of General Casas.
Based partly on a true story, Havana Harvest follows the maneuverings of two adversarial intelligence services as they attempt to inflict maximum damage on each other through a series of high-tension suspense. In Cuba, General Patricio Casas must decide whether to support the revolution he has fought endlessly for, or do what is good for his people by challenging the selfish authoritarianism of the Castroite regime. Meanwhile, CIA operative Robert Lonsdale is tasked with determining why a captain in Fidel's army seeks U.S. protection from a Colombian drug cartel and the Cuban secret police. Lonsdale is quickly drawn into a disarray of intrigue and murder, with General Casas' help as his only chance for survival.During his professional life, author Robert Landori traveled South American and the Caribbean where he encountered many international financiers and notorious con men. Landori was able to develop a highly charged and double-edged relationship with Catro's Cuba, and was held in solitary confinement for false accusations of espionage. After he was freed, Landori used his experience to create fictional tales of international espionage.