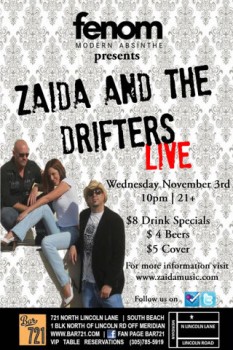 Wednesday, November 3rd, 10:00pm
Bar 721
721 N Lincoln Lane
Miami Beach, Florida 33139
Bar 721's Live Wednesdays continues as we present Zaida and the Drifters, LIVE!
$5 Door Cover
Age: 21+
Drink Specials ALL NIGHT!
A little bit about Zaida and the drifters:
The new acoustic trio known as "Zaida & the Drifters" consists of masculine and feminine musicality coming together as one. The magic happened when Tony Cruz, an active musician in the South Florida music scene, and David Denmark, a drummer aficionado (aka The Drifters) discovered the local singer Zaida – a Miami native who had learned to play piano from her mother by age twelve and had released her first album 'Train Ride' in 2000. Together and with a new collection of original songs and a growing repertoire of eclectic material, The Drifters and The Songstress make every performance an intimate experience. Each song tells a story and each lyric absorbed. If music is a window to the soul then Zaida and The Drifters are inviting us to peek in to theirs….
For more information:
www.reverbnation.com/show/3314602#!/zaida
www.youtube.com/watch?v=TXbfl5SF59s
Come join us for a great night of LIVE MUSIC!