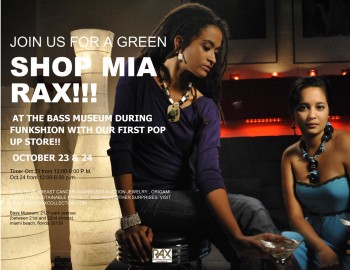 Oct.23 from 12:00-9:00 P.M.
Oct.24 from 12:00-6:00 p.m.
Bass Museum: 2121 park avenue
(between 21st and 22nd streets),
miami beach, florida 33139
Join Us For A Green Shop Mia
Rax!
At The Bass Museum During Funkshion
With Our First Pop Up Store!
We'll Have Breast Cancer Awareness Auction Jewelry , Origami Sales For Sustainable Project, And Many Other Surprises. Visit Us At www.raxcollection.com.