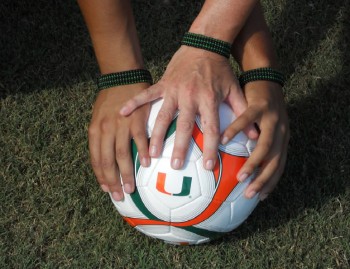 "The Malaika Game" UM Women's Soccer Last Game of The Season
October 24, 1pm
Stadium on the UM Campus
5821 San Amaro Dr. Coral Gables, Fl. 33146
www.MALAIKAFORLIFE.org
The University of Miami women's soccer is officially deeming its final home game the "MALAIKA Game" honoring its partnership with the MALAIKA FOR LIFE foundation in an effort to raise funds to battle malaria in Africa.
Since the first game of this season, the UM soccer team has partnered with MALAIKA FOR LIFE to create "Scoring Goals to Save Lives". The initiative has seen the soccer program donate $10 for every goal scored by the Hurricanes. The UM soccer team, lead by Brittney Steinbruch, ACC Freshman of the year, has raised a total of $1,780.
Please come out and show your support! During half-time, Kristen will be called to the center of the field, where she will receive an autographed soccer ball and check for the money raised.
About: MALAIKA FOR LIFE Founded in 2009 by malaria survivor Kristen Kenney and financial advisor Anna Wascher, MALAIKA FOR LIFE (www.MALAIKAFORLIFE.org) is dedicated to saving lives and empowering communities, ONE bracelet at a time. Proceeds from every bracelet purchased provide life-saving medication to a child with malaria. For the widows and HIV-positive women who craft the products, the organization provides a sustainable income that in turn facilitates economic development for their local Tanzanian community. To date, MALAIKA FOR LIFE has supplied 8 clinics and 3 hospitals with the lifesaving medication to save over 8,000 lives! The goal is simple – to continue to save lives and empower communities every day until a larger and more powerful organization can step in and find a vaccine or an alternative method that is immediate, effective, and sustainable
Thank you for using Soul Of Miami!