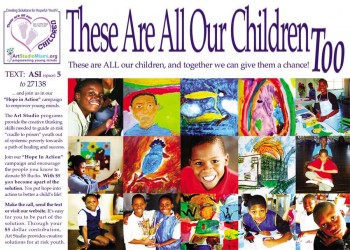 2010 These Are All Our Children Too Gala & Award Ceremony
Benefitting the Youth of Art Studio Miami
Friday, November 12, from 6:30pm-11:00pm
Raleigh Hotel, 1775 Collins Ave, Miami Beach, Florida
"These Are All Our Children" in partnership with Art Studio Miami Continues to Make A Lasting positive Impact on the lives of impoverished youth in Miami's Little Haiti community.
"These Are All Our Children" will hold their 2nd Annual Gala to benefit at-risk and impoverished youth in Miami. This Gala makes it possible for Art Studio Miami to continue to bring healing arts programs to impoverished youth with a goal of "Halting the Cradle To Prison Pipeline".
The Gala takes place on Friday, November 12, 2010 at the RALEIGH HOTEL at 1775 Collins Ave, Miami Beach, Fl, 33139, from 6:30PM to 11:00 PM. Individual tickets are $75 ($100 after October 31, 2010).
CBS News Anchors Marybel Rodriguez and Jawan Strader will host the gala. The evening will include an exclusive VIP welcome reception, silent auction, delectable food & beverages and a diverse musical selection to enliven the senses. All in support of Art Studio Miami , a 501c3 npo organization committed to providing a safe location where young people are inspired and guided by teaching artists and professional mentors who support the student's education and career development through the integration of creative holistic arts.
Miami's poorest neighborhoods are producing young people who lack the skills and resources necessary to compete in the job market today. Many who grow up in poverty have few options to pursue gainful employment or higher education. The programs that the Art Studio Miami offers to youth living in the Little Haiti community concentrates on building the creative thinking skills necessary to gain stable employment and escape systemic poverty. Art Studio Miami utilizes the arts to focus on cultivating vital life skills, including etiquette, public speaking, and interpersonal relationship building. The students also learn resume building, graphic design, website construction, writing, culinary preparation, and are partnered with mentors to further develop skill sets in fields that interest each unique student.
"Our goal is to build awareness on behalf of our youth and raise the necessary funds need to make sure every child that wants to participate can attend our programs. Together we are committed to empowering the youth of our community to lead successful lives and have hope filled futures", states Dee Dee Green,
Development Director, Art Studio Miami, and founder of "These Are All Our Children"
To purchase tickets visit www.artstudiomiami.org or call Dee Dee Green at p.305.528.3017 or email deedee@artstudiomiami.org.
Art Studio Inc. is a 501c3 non-profit organization, made up of skilled volunteers, teaching artists, and professional mentors. Our goal is to empower young minds by providing a safe space within the schools and communities, for career focused, creative-holistic art integrated programs and mentoring to take place. Art Studio's engaging programs encourage creative thinking, personal responsibility, career development, environmental awareness, and positive self-images – all of which increase student's chances for self-sufficiency and long-term success.
Our core values include utilizing the arts as a resource in advocating for human rights, developing Life Skills and exposing our youth to attainable professional career path solutions.