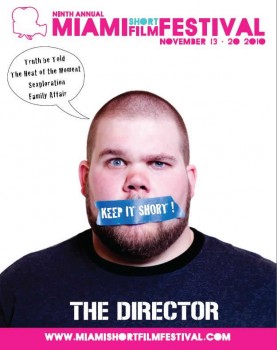 Miami Short Film Festival 2010
11/13/2010 – 11/20/2010,
Coral Gables Art Cinema & Tower Theater
Coral Gables Art Cinema
260 Aragon Avenue, Miami FL
Tower Theater
1508 SW 8th Street, Miami FL
www.miamishortfilmfestival.com
The world's most creative filmmaking genre is about to be showcased at The 9th Miami Short Film Festival, Nov 13 th -20 th , 2010.
Miami Short Film Festival was created nine years ago to make a connection between established studios, independent filmmakers and the global creative community, as well as to honor excellence in the art of filmmaking.
A one of a kind selection of short films will reveal the true spirit of this powerful… art form. From original scripts, to different perspectives, to new cinematography and film techniques, each piece is the result of true emotion and expression. Today's short film cinema is undoubtedly, the nurturing ground of tomorrow's world-renowned filmmakers.
MSFF's goal year after year is focused on motivating directors, screenwriters, actors, and producers to make their films and share them with fellow film makers and industry professionals. The ultimate goal is to bring exposure to independent up-and-coming filmmakers. As a result, the festival has showcased over 800 high quality films from around the world representing over 36 countries ( USA, Canada, UK, France, The Netherlands, Japan, Jordan, Israel, Germany, Spain, Columbia etc…)
Another year of short film festival and another opportunity for you to join us. Don't be left out! Mark your calendar now. "This is a unique opportunity".
This year's short film festival will be held in two favorite locations:
1. The new Coral Gables Art Cinema, with the most advanced technical set-up of any stand-alone non-profit movie theater in the region. A truly comfortable but intimate space in the upscale Coral Gables. (260 Aragon Avenue, Coral Gables)
2. The Tower Theater, one of Miami's oldest cultural landmarks opened in December of 1926. Today, The Tower Theater is the finest state-of-the-art theater in the South. (1508 SW 8th Street, Miami)
For more information about the 9th annual MsFF: SHOW TIMES, EVENTS, TICKETS, VIP PASSES etc..,Please surf to: www.miamishortfilmfestival.com
KEEP IT SHORT
(NOVEMBER 13-20, 2010)