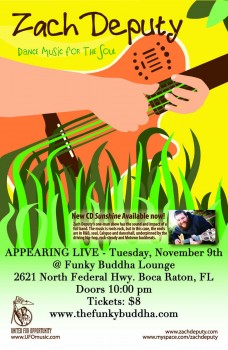 Zach Deputy
Tuesday, November 9
10 PM |18+ | $8
Funky Buddha Lounge
2621 North Federal Highway, Boca Raton, FL 33431
561.368.4643 | www.thefunkybuddha.com
Hailing from the South Carolina coast, Zach Deputy's family roots are in Puerto Rico and St. Croix. Cruzan rhythms and folk songs competed with blues and American roots music for space on the family stereo. Having toured the country in his late teens and early 20's with a couple of bands that just didn't inspire him, Deputy followed his muse back to the Atlantic coast, where he began to craft his own approach to music as a solo artist. Deputy embraced the creative freedom of performing alone, but soon realized it also had its limitations. Thus, he began to employ live looping as a means of filling out the sound. Deputy is now a full band unto himself, made possible through simple technology, but delivered by a skill and mastery of technique, made pure through the injection of warm, charming soul. From his base in Hilton Head, Deputy has been performing 250-300 shows a year for the last four years. Zach Deputy is sponsored by Godin Guitars, and plays nothing else. His new album Sunshine is available now at www.zachdeputy.com | www.myspace.com/zachdeputy.
Of all the talented acts BLP has worked with over the last three years, one we're most excited to bring to South Florida is Zach Deputy, who is taking the Bamboo Stage Tuesday, November 9 at the Funky Buddha Lounge & Brewery. Put simply, there is nothing else out there like Zach Deputy. Truly a one-man band, he is a powerhouse of performance, technical chops and one hell of a charismatic presence. Deputy uses live loops, layering sounds through the magic of technology to create a full band effect. While he's not the first artist using this technique, Deputy has taken it to the next level. He's also a playful songwriter, shredder on guitar, soulful voice with a 4+ octave vocal range and can drop freestyle rhymes with the best of them. The Zach Deputy sound is essentially roots rock, but in his case the roots are in soul, calypso and dancehall, underpinned by driving hip-hop, rock steady, Motown and Stax backbeats created with his layered vocal beatboxing. On top of the backbeat, Deputy's nylon strings pull multiple duties as bass, rhythm and lead guitar. Riding over that, a plethora of sounds — keyboard, steel drums and an entire horn section — come pumping and grinding out of the speakers when he takes the stage. He is a one man dance party, but he can also bring an audience to rapt attention with a heartfelt love ballad.