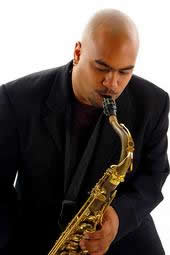 KCC Productions and Jazid present Jazz at Jazid, with the Troy Roberts Quartet, Tuesday November 9, at 11 PM. Jazid is located at 1342 Washington Ave, South Beach. For more information, call (305) 673-9372 or visit jazid.net.
Hailing from the remote location of Perth, West Australia, Grammy-nominated saxophonist and composer Troy Roberts has recently relocated to the USA. Having completed a Masters and currently teaching part-time at the University of Miami, Troy recently won two consecutive Downbeat Jazz Soloist Awards, two consecutive West Australian Music Industry Awards, was the only Australian finalist in the Thelonious Monk International Jazz Saxophone Competition, and continues to maintain a busy performance schedule around Australia, Europe and the USA.
Having shared the stage with greats such as Sammy Figueroa, Robby Ameen, Lew Soloff, Lauryn Hill, James Morrison, Kevin Mahogany, Slide Hampton, Gary Bartz, Geoff Keezer, Rodney Whitaker, Carl Allen, Dennis McCrell, Jeff Hamilton and John Clayton, Troy has not only just released his third album, The XenDen Suite – an 8-part composition for jazz quartet and string quartet – but also his first DVD – a live concert performance of The XenDen Suite.
Troy leads two bands: The exciting nu-jazz project, The Jive Collective features some seriously talented young Miami-based artists, while showcasing Troy's original compositions – an eclectic concoction of jazz, groove, Latin and neo-soul. And Troy's Quartet sets its focus on capturing the raw energy and excitement of the moment in a straight-ahead, hard swinging jazz style, with repertoire comprising original compositions and re-arranged jazz and contemporary classics.
Recent Awards
2010 Perth Jazz Society Member's Choice Award
Perth Jazz Society Best Jazz Performance Award (Troy
Roberts Double Quartet)
Downbeat Student Music Award – Jazz Soloist
2009 WAMI Award – Best Original Jazz Act (VOID)
Finalist in the Wangaratta Jazz Saxophone Competition.
2008 Grammy Nomination (for performance on 'The Magician')
Semi-finalist in the Thelonious Monk International
Saxophone Competition
WAMI Award – Best Original Jazz Act (VOID)