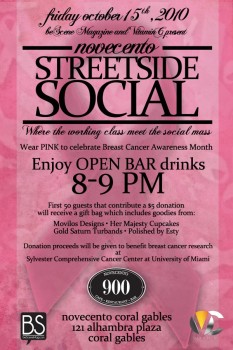 beScene Magazine would like to invite you to our event this upcoming Friday, October 15th. We will be hosting an evening of awareness, supporting the fight against breast cancer at the posh Novecento Coral Gables. The night will feature open bar from 8 to 9 p.m., and the first 50 attendees to arrive will receive a complimentary gift bag with goodies from Movilos Designs, Her Majestys Cupcakes, Gold Saturn Turbands, Polished by Esty and more!
If you wish to make a small contribution, donations will be collected at the door; all proceeds will be given to a breast cancer association. Take it a step further and wear your favorite shade of pink to honor the many women (and men) who have battled breast cancer.
Please feel free to spread the word and RSVP to: info@bescenemag.com.