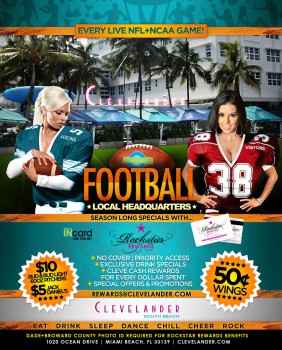 Clevelander
1020 Ocean Drive
Miami Beach, FL 33139
clevelander.com
Are you ready for some football? The Clevelander is ready to cater to all the die-hard football fans of South Florida for the first week of the regular season. With your Rockstar Rewards card, enjoy $10 pitchers of Budweiser & Bud Light, $5 Jack Daniels and $0.50 Buffalo Wings during every live game. Don¹t have a Rockstar Rewards card? Visit the Gift Shop inside the Clevelander Sports Bar everyday from 5pm to 10pm.
Week Six
Sunday 10/17
Seattle @ Chicago (1p)
Baltimore @ N England (1p)
Detroit @ NY Giants (1p)
Atlanta @ Philadelphia (1p)
Cleveland @ Pittsburgh (1p)
Miami @ Green Bay (1p) ***Rockstar Rewards Members: Get a free Dolphins Calendar & Enter to win a Budweiser iPod Cooler***
San Diego @ St. Louis (1p)
N Orleans @ Tampa Bay (1p)
Kansas City @ Houston (1p)
Oakland @ San Francisco (4:05p)
NY Jets @ Denver (4:05p)
Dallas @ Minnesota (4:15p)
Indianapolis @ Washington (8:20p)
Monday 10/18
Tennessee @ Jacksonville (8:30p)
Thank you for using Soul Of Miami!