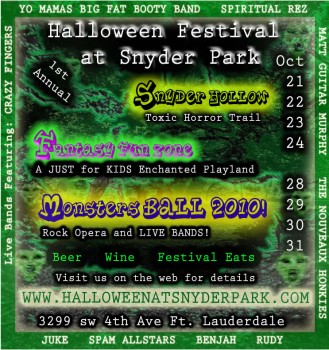 Halloween Festival At Snyder Park
October 21-24 & October 28-31
6:00pm – 11:00 pm Thurs & Fri, 4:00pm – 11:00 pm Sat & Sun
Snyder Park
3299 SW 4th Ave, Ft. Lauderdale
Website.
Eight Spooktacular nights of Halloween Entertainment for the Entire Family
50+ Terrifying, Enchanting, and Rockin' acres of Fun!
Interactive Horror Trail
A first of its kind, terrifyingly unforgettable Snyder Hollow Interactive Mass Mutation Experiment set in the post toxic disaster world of Snyder Hollow Forest..30 blood curdling, hair raising minutes
If you haven't run home screaming yet, you can groove on over to our
Monsters Ball 2010 Main Stage
featuring the Monster Ball 2010 Rock Opera, Short Horror Films,and a scary cool mix of Rock, Blues, Reggae, Dub and Funk Live Bands including Spam Allstars, Matt Guitar Murphy & The Nouveaux Honkies, Yo Mama's Big Fat Booty Band, Benjah,Spiritual Rez, Crazyfingers, Juke, Rudy and many more…
Visit www.halloweenatsnyderpark.COM for the complete lineup
Don't know where to take the kids?
We built a 3+ Acre Fantasy Fun Zone
for the little Halloweeners.
Fanciful, Enchanting, Interactive, and appropriate for kids of all ages.
Children will go gaga over our Costumed Characters, Games, Rides, Lights, Treats and surprises
Beer, Wine, Festival Eats, and a totally unique "Halloweenisphere" presented by South Florida's best actors & bands. Lovingly Conceived, Produced and presented for the community.